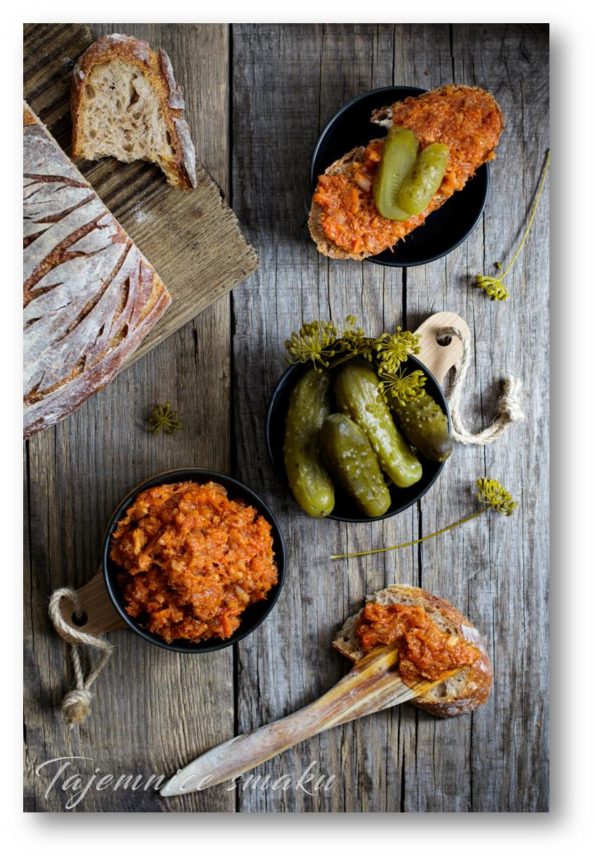 Do you remember the legendary paprykarz from Szczecin, the one from a can with a slice of pickled cucumber on top? This my childhood delicacy. Unforgettable a taste that, unfortunately, in currently available paprykarzach for sale I can not find out. I don't know what the problem is is it in the ingredients or in my psyche? So I started trying to make paprikash After trying a few recipes, I finally found my taste. It is paprykarz my way, with baked cod, soy sauce, fish sauce, with vinegar balsamic and jasmine rice. Of course, you can use other rice, but homemade paprika is best for me it tastes great with jasmine rice.
What do I serve with homemade paprykarz Szczeciński? With bread and of course, only with pickled cucumber. For me, in this case, there are no substitutes. paprykarz i pickled cucumber is a perfect duo!
Ingredients
500 g of cod, skinless fillet
3 tablespoons of oil ( u me grape seed oil)
200 g jasmine rice
300 - 400 g canned skinless diced tomatoes or thick passata
200 g of tomato paste
300g carrots
200 g of onions
3 cloves of garlic
150 ml dry white wine
1 tablespoon balsamic vinegar or black rice vinegar
1 tablespoon of soy sauce
1 tablespoon of fish sauce
1 tablespoon of dried paprika
salt, pepper, sugar, harissa to taste
additional oil for jars if paprykarz is pasteurized
Execution
Cook the rice according to the instructions on the package, let it cool down.
Place the cod fillet on baking paper, remove it if necessary the remaining bones, sprinkle with oil (1 tablespoon). Bake in a preheated oven temperature of 180°C for 15-20 minutes. Baking time depends on the thickness of the fish. Baked let the fish cool down and chop it with a fork.
Peel the carrot and grate it on a coarse grater. Onions peel and cut into cubes. Peel the garlic, press it through a press or grate it on a grater. Heat 2 tablespoons of oil in a large, deep frying pan. We fry on start with the onion, as soon as it is slightly glazed, add the carrot, all the time we mix. After a few minutes, add dried paprika and garlic, mix and fry over low heat for another 2 minutes. We water white wine and cook until the liquid is reduced. Then add the tomatoes cans, tomato paste, mix and continue to fry on low heat. We add soy sauce, fish sauce, balsamic vinegar, salt, pepper, half a teaspoon of sugar and harissa to taste.
When the vegetable sauce is seasoned, add the cooked rice, thoroughly we mix. Season if necessary and add hot water. Finally, we add baked and shredded fish, mix and remove from the burner.
The paprika can be put into jars. Drizzle a little oil on top of each and twist jar and pasteurize. We store in the fridge.
Enjoy!
There are several ingredients in the recipe that are not available in every store. Jasmine rice, soy sauce, fish sauce, and black vinegar rice, harrisa can be ordered in online stores, e.g. w Cuisines of the World.
also check
Comments