<! - wp: heading ->
Teriyaki sauce with soy sauce, honey, garlic and ginger
<! - / wp: heading -> <! - wp: image {"id": 3274, "sizeSlug": "medium", "className": "is-style-default"} ->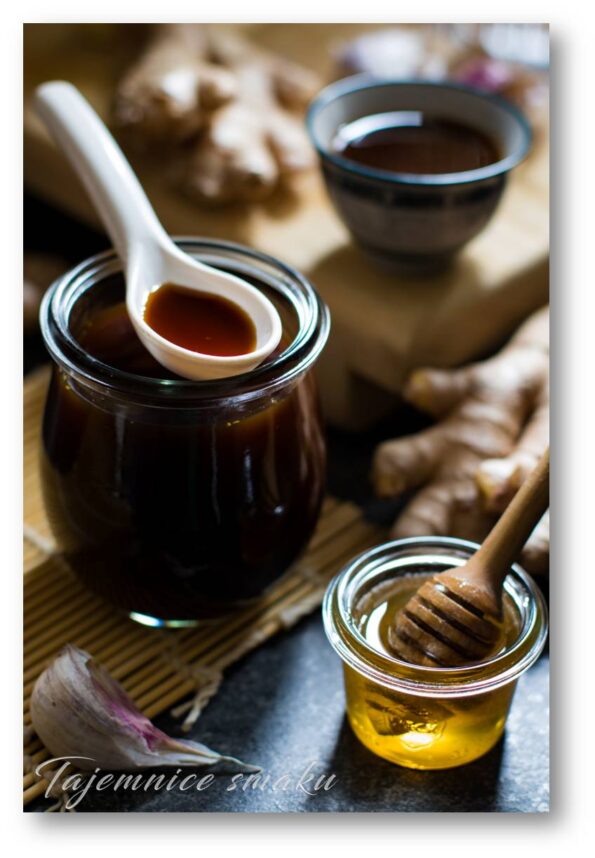 <! - / wp: image ->
The salty sweet teriyaki sauce is one of my favorite universal sauces. It is an excellent Asian seasoning and marinade. The unique taste of the sauce wonderfully binds Asian dishes with meat, fish, seafood, tofu or vegetables.
The recipe for homemade teriyaki sauce I got from Luiza Trisno, a chef known for his reinterpretation of Asian cuisine.
This sauce is extremely easy to prepare, tasty, the best!
Ingredients
200 ml of light soy sauce
200 g of multiflorous honey
20 g of garlic
30 g of fresh ginger
100 ml of rice vinegar
50 ml of mirin * (possibly sake or vodka)
Execution
I do not peel garlic and ginger. I crush the garlic cloves with the flat side of the knife, chop the ginger or grate it on a coarse-mesh grater.
Combine all the ingredients in a saucepan: garlic, ginger, soy sauce, honey, rice vinegar and mirin. Bring everything to a boil, reduce the power of the burner and simmer. Reduce the sauce for about 10 minutes, then strain it through a fine sieve. Pour the ready-made sauce into a jar, screw it on, cool it and put it in the fridge. Homemade teriyaki sauce can be stored in the fridge for about three weeks.
Enjoy your meal!
* Mirin is a spice obtained by fermenting rice, sometimes called sweet sake or Japanese cooking wine. Mirin, soy sauce, rice vinegar can be bought in online stores, among others in Cuisines of the World .
also check
Comments