Delicious, soft yeast pumpkin bagels with honey and pumpkin seeds. Sliced ​​bagels, favorite toppings and we have a great idea for breakfast at home or a sandwich for work
Pumpkin season is the time to bake and freeze pumpkins, preferably varieties that we won't be able to buy later. After defrosting, we have a ready base for desserts, soups, pastries and other delicacies. I really like to add pumpkin mousse to bread and cakes. This time I experimentally added it to bagels, they were scalded and baked super delicious!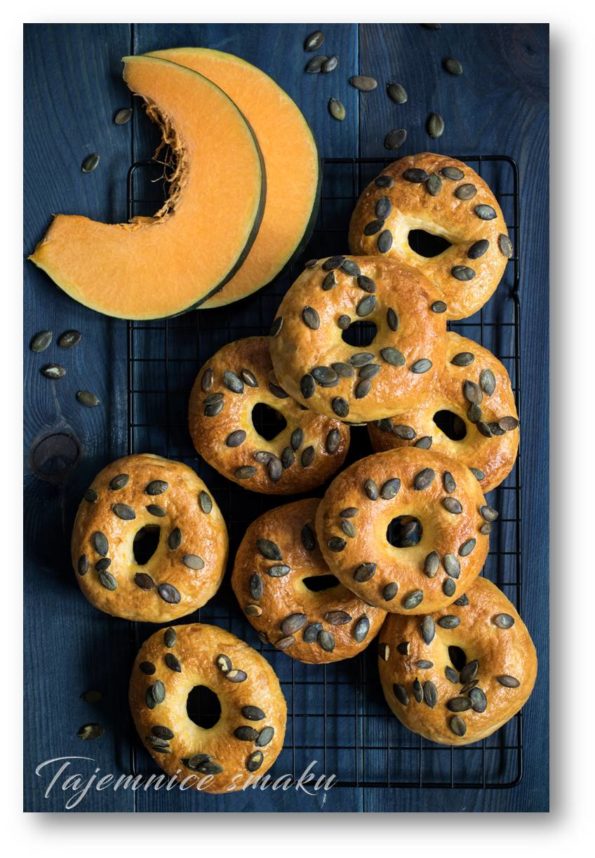 Pumpkin bagels with honey and pumpkin seeds. Delicious, soft bagels plus your favorite additions are a great idea for breakfast at home or a sandwich at work. What ideas do you have for bagel toppings? Compose your favorite sandwiches. I tossed cheese, cold cuts, spinach, arugula, fresh figs into my bagels… it just happened to be in the fridge.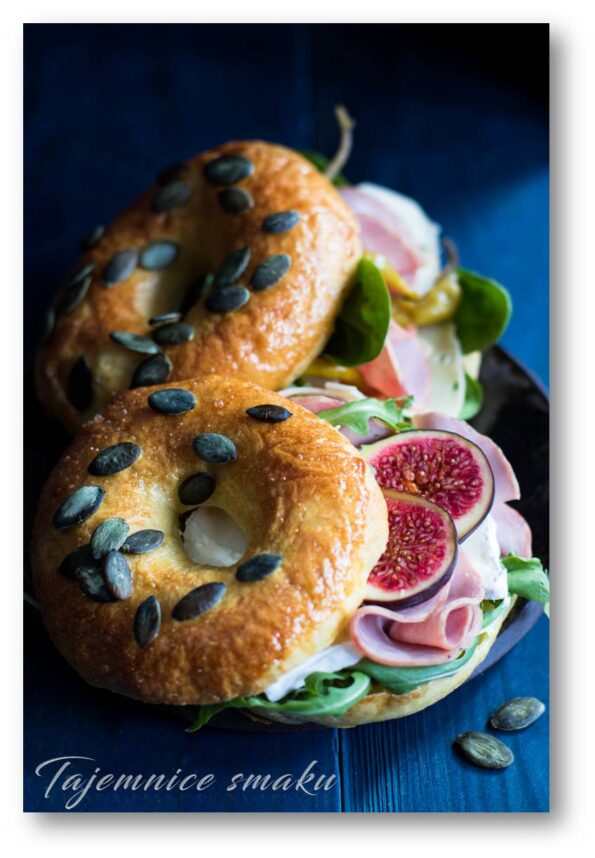 Recipe makes 14 bagels.
INGREDIENTS
GROUT
5 g fresh yeast
100 g water
100 g bread flour type 750
CAKE
500 g of bread flour - type 750
10 g of yeast
100 ml of lukewarm water
all the leaven from the previous day
25 g honey
200 g roasted pumpkin purée*
1 teaspoon salt
ADDITIONAL
4 liters of water
2 tablespoons of sugar
1 egg
pumpkin seeds
EXECUTION
GROUT
The leaven is prepared the day before baking, preferably in the evening.
In a bowl, mix the yeast, flour and water, cover and leave overnight at room temperature.
The leaven can stand for 18 - 24 hours.
CAKE
Dissolve the yeast and honey in lukewarm water, add leaven and roasted pumpkin purée.
Add flour, salt and knead the dough.
Cover with a cloth and leave in a warm place to rise for about 1.5 hours or until the dough doubles in size.
Knead the dough again for about 10 minutes.
After kneading the dough thoroughly, divide it into 14 parts (about 75 g each) and make balls.
Drill a hole in the center of each ball with your finger. We roll the dough on the countertop, enlarging the hole, until a "bun with a hole" is formed, or we make a hole with one finger, and then we enlarge it with two fingers.
Line a large baking tray with baking paper. Ready buns with a hole are placed on floured paper on a baking sheet, covered with a cloth and left for 15 - 20 minutes to rise.
In a large pot, boil 4 liters of water with 2 tablespoons of sugar.
Boil the bagels for 1 minute on each side, then transfer them back to the baking sheet.
Heat the oven to 200°C.
Smear the bagels with beaten egg, sprinkle with pumpkin seeds and bake for 25 - 30 minutes, until golden.
* Pumpkin puree - pumpkin cut in half, remove the seeds along with the fibrous pulp, cut into small pieces. Place on a baking tray lined with baking paper bottom and bake at 160 ° C for about 30 - 40 minutes or until tender. After cooling, separate the pulp from the skin and blend to a smooth purée.
also check
Comments