Jerusalem cuisine and sweet pastries. Harisi - semolina cake with almonds and condensed milk
Semolina is a common ingredient in Middle Eastern cuisine. Harisi is a bit like sand cake, but the semolina gives the cake a slightly different texture. It is sweet, juicy and a bit grainy at the same time. Perfect with coffee!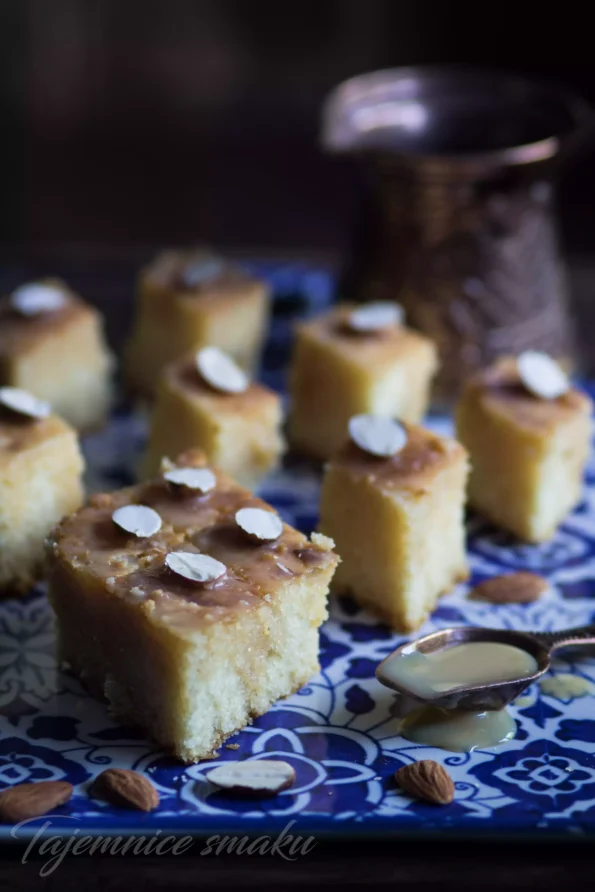 The recipe comes from the book by Nidal Kersh Szakszuka. Jerusalem kitchen. Without borders. According to the book recipe, the hot cake should be poured with 400 g of condensed sweet milk. It's definitely too much for me. So I only used half of the milk and the cake was still sweet.
INGREDIENTS
100 g room-temperature butter, plus some to grease the pan
380 g semolina
100 g sugar
a pinch of salt
1/2 teaspoon baking soda
1 teaspoon baking powder
150 ml plus 2 tablespoons thick yogurt
a handful of halved almonds
200 g sweetened condensed milk
EXECUTION
In a bowl, cream the butter, groats, sugar and salt.
Mix 150 ml of yogurt with baking soda and baking powder. Add to the mass and knead.
Heat the oven to 190°C.
A 17 x 22 cm mold is greased with butter.
Put the dough into a mold, smooth the surface with your hand and spread the remaining yoghurt on it.
Put it in the preheated oven and bake for 30 minutes.
Finally, turn on the grill function and bake the cake for another 2 - 3 minutes.
Take the cake out of the oven and immediately cut it into portions.
Drink the hot cake with condensed milk and decorate with almond halves.
Let it cool down.
also check
Comments