Granola with apples, cranberries, expanded amaratus, nuts...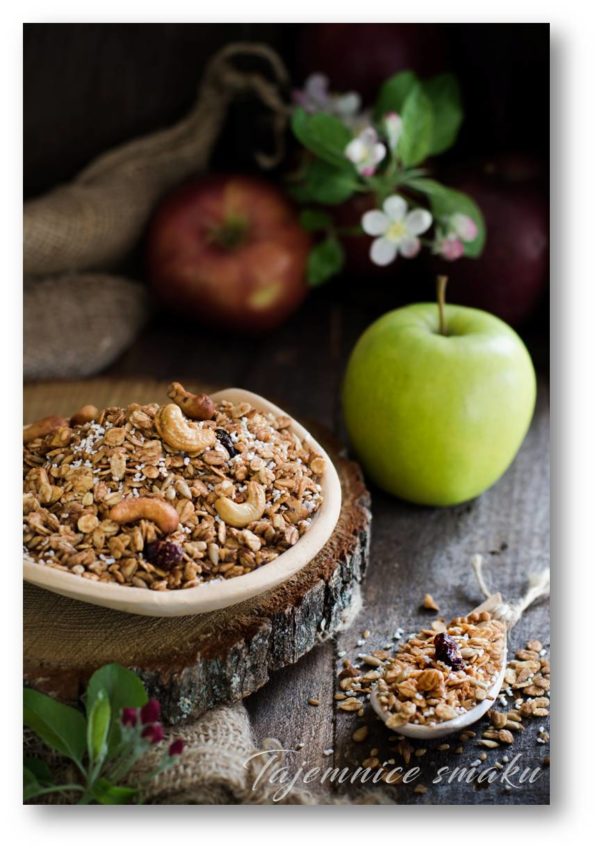 You probably often carry out an inventory of kitchen cabinets, and there are open packages of various flakes, nuts and other grains. What are you doing? Put it all in a bowl, mix it with fat, something sweet and bake it in the oven.
We have order in the cupboard, delicious homemade granola and... we don't waste food!
The binder in this granola are e.g. apples. I don't peel the fruit, just cut out the seeds and blend. You can also use applesauce from a jar, remembering that such a mousse is usually sweetened. Then we should reduce the amount of sugar in the recipe accordingly.
Ingredients
250 ​​g applesauce (2-3 apples)
50 g of coconut oil
120g of honey
50g of sugar
500 g mixed flakes (e.g. oats, barley, rye, wheat, buckwheat...)
150 g of golden linseed
150 g of sunflower seeds
30 g of walnuts - broken into pieces
100 g cashews
1/2 teaspoon of salt
1 teaspoon of ground ginger
3 teaspoons of ground cinnamon
50 g of dried cranberries
50 g expanded amaranth
Execution
In a large bowl, mix all the dry ingredients: flakes, flaxseed, sunflower seeds, nuts, ginger, cinnamon and salt.
Wash the apples, cut them into quarters and cut out the cores. Blend the fruit together with the peel into a mousse.
We heat applesauce, coconut oil, honey and sugar in a small pot, only to dissolve the ingredients, do not cook. Pour the mixture into the dry ingredients and mix thoroughly.
Heat the oven to 160C. Line the baking sheet with baking paper.
Spread the granola mix onto the prepared baking sheet. Bake for about 40 minutes, stirring every 10 minutes so that all ingredients are evenly baked.
Turn off the oven, take out the tray and add dried cranberries and expanded amaranth to the still warm granola, mix. Cool on a baking sheet, then crumble in your hands and pour into a large jar.
Granola is served with milk, yogurt, we can use it for layered desserts or eat it straight from the jar...
Enjoy!
also check
Comments