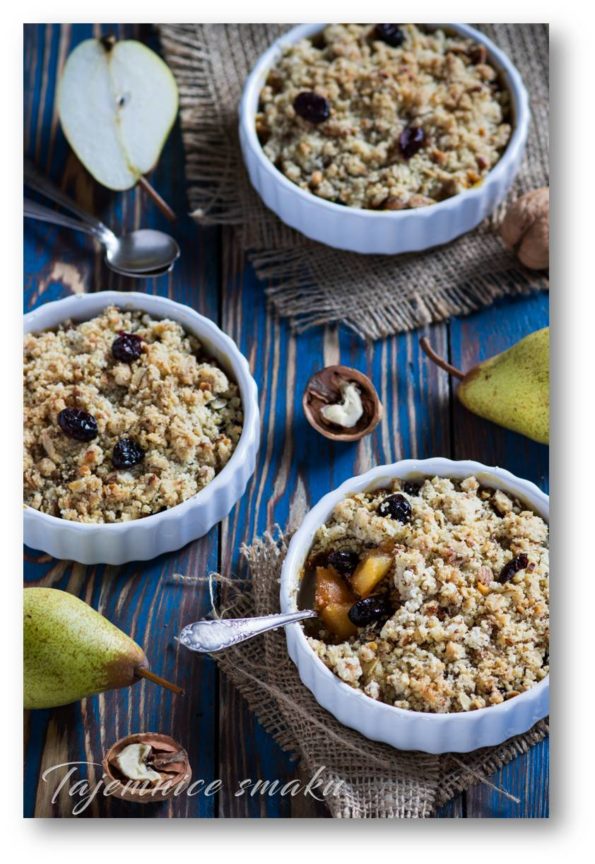 Fruit crumble is a simple dessert that can be prepared even a day in advance.
Cover the finished crumble and keep it in the fridge. We do the same with caramelized fruit. It is important that the crumble and fruit are stored in separate containers. We only need about 30 minutes to prepare the dessert, i.e. - turn on the oven, spread the fruit in molds (or in one large one), fill with crumble, bake...
...and that's it!
Add vanilla ice cream, whipped cream and you have a delicious, simple and express dessert.
Ingredients for 6 molds with a diameter of 12 cm.
Ingredients
Crumble
200 g of flour
100 g of butter
50 g oat flakes
50 g finely chopped walnuts
80g of sugar
CARMELIZED FRUIT
1 kg of pears
100 g of dried cranberries
juice of 1 lemon
50g of sugar
100 ml dry white wine
Execution
Crumble
Pour chopped nuts, flour, butter in pieces, sugar and oat flakes into a bowl. Knead all the ingredients with your hands until crumbly. Cover the bowl with the crumble and put it in the fridge.
CARMELIZED FRUIT
Pears are washed, peeled, seeded, cut into pieces and sprinkled with lemon juice. Sprinkle sugar in a dry frying pan and caramelize until golden. Then, very gently and carefully, being careful not to burn yourself, pour the white wine. Stir all the time until the sauce is formed, to which we add pears together with lemon juice. Caramelize the pears for about 5 minutes, stirring constantly. Put the pears into heat-resistant baking molds, leave the sauce in the pan.
Add the dried cranberries to the sauce remaining in the pan and cook until the sauce is reduced. Then spread the cranberries on the pears.
Preheat the oven to 180°C. Sprinkle the crumble evenly over the pears and cranberries, put in the preheated oven for about 30 - 40 minutes.
Fruit crumble tastes great served warm with vanilla ice cream.
Enjoy!
also check
Comments