Delicious, quick and healthy pickled red cabbage, apple and onion salad. Homemade preserves - pickles.
Red cabbage is available for sale practically all year round. Thanks to this, we can pickle it in small amounts, when we feel like it. All you need is a big head of cabbage, apple, onion, spices, shred, mix and after two weeks you have over 2 kg of delicious and healthy pickled salad.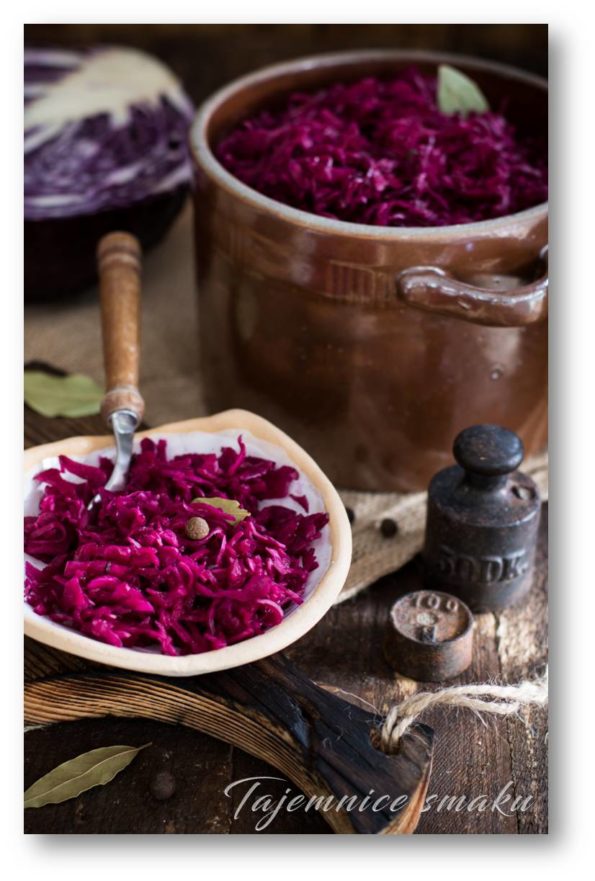 COMPOSIT
1 head of red cabbage (about 2 kg)
1 large wine apple
1 large red onion
1 teaspoon of cane sugar
1 tablespoon of salt
1 teaspoon of cumin seeds
3 grains of allspice
2 - 3 bay leaves
EXECUTION
Clean the head of cabbage from the outer leaves, dirty and spoiled, cut it in half, cut out the core, peel the apples and cut out the seed nests.
Slice the cabbage finely, grate the apples and cabbage core on a grater with large holes, cut the peeled onion into thin half-slices.
Mix everything together thoroughly with salt, sugar, cumin, preferably in a large bowl.
Add allspice, bay leaves and put the whole thing into a scalded jar or a stone pot.
We beat it hard, e.g. with a pestle, cover it with a plate, weigh it down and keep it at room temperature.
After 3 - 4 days of fermentation, pierce the cabbage in several places, preferably with a wooden stick or the other side of a wooden spoon, cover it again with a plate, weigh it down and take it to a cool place for 10 - 15 days.
Put ready cabbage in jars and keep it in the fridge.
also check
Comments