<! - wp: heading ->
Sauerkraut red cabbage in Korean
<! - / wp: heading -> <! - wp: image {"id": 3193, "sizeSlug": "medium", "className": "is-style-default"} ->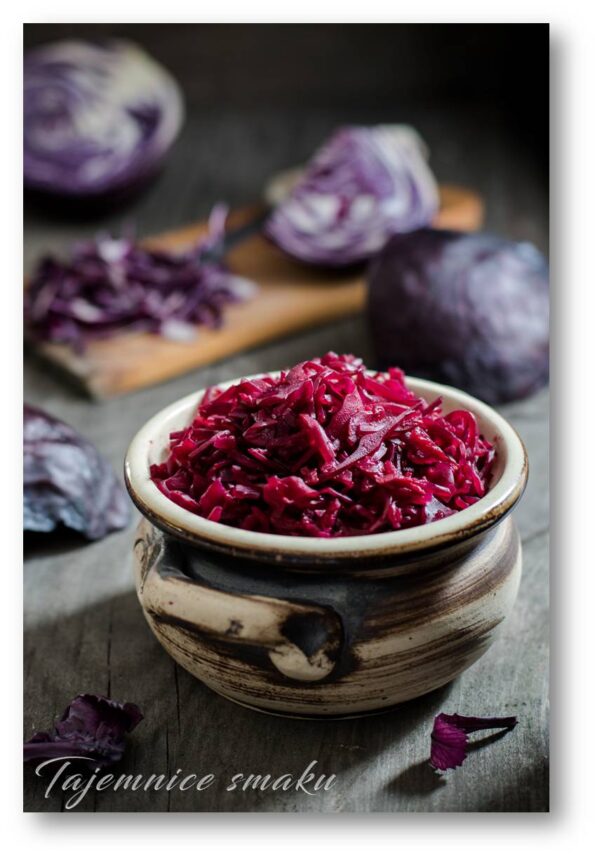 <! - / wp: image ->
I was inspired to prepare red cabbage kimchi by a recipe from the book "Pickles and Fermentations". Aleksander Baron presented the idea for Polish kimchi made of red cabbage with smelt . I did not recreate this version, but I prepared blue kimchi according to the recipe from which I usually prepare classic kimchi. I exchanged Chinese cabbage for red cabbage, i.e. red cabbage, and instead of spring onions I added red onion.
There are over 200 kinds of kimchi in Korea, and everyone has their own family, of course, the best recipe. Traditional Korean silage usually consists of Chinese cabbage, turnips, gochugar and some other additives. We can change the ingredients, so let's experiment and discover new flavors.
For me, kimchi cannot do without gochugaru, i.e. Korean chili flakes. It is a very spicy spice with a slightly sweet and smoky flavor. Most of the ingredients for the preparation of kimchi paste, i.e. gochugaru, fish sauce, soy sauce can be bought in online stores, among others in Cuisines of the World .
If we want to prepare vegan red cabbage kimchi, omit the fish sauce and replace it with an extra spoon of soy sauce.
Ingredients
KIMCHI
2 kg of red cabbage, the so-called red cabbage
2 - 3 liters of water
200 g of salt
200 g carrots
100 g of red onion
100 g of white radish
KIMCHI PASTA
200 ml of water
2 tablespoons of rice flour
1 tablespoon of sugar
50 g of fresh ginger
3 cloves of garlic
20 g of gochugaru
2 tbsp soy sauce
1 tablespoon fish sauce (omit the vegan version and replace it with soy sauce)
Execution
Cut the red cabbage in half, cut into the depths and chop or shred into the so-called mandolins. Put the chopped cabbage into a large bowl, sprinkle with salt and pour water to cover it. We mix and load, I put a round wooden board or a large plate and put a jar / jars of water on top. Let it stand for about an hour.
While the cabbage is macerated, prepare kimchi paste . Boil 200 ml of water with rice flour, stir all the time until a gruel is formed, add sugar and leave it aside to cool.
Add to the cooled gruel, grated, peeled ginger and garlic, gochugaru pepper, soy sauce and fish sauce, mix.
Peel the white radish, cabbage and carrots on a coarse grater or cut them into thin slices, and then into sticks, the so-called julienne. Dice the red onion.
Drain the soaked cabbage thoroughly from the brine, add kimchi paste, radish, carrot, cabbage dough, onion and mix everything thoroughly. Put the vegetables into a large jar or stoneware jar. We load it (with a plate and a jar of water or a scalded flat stone), cover and leave for about 3-5 days at room temperature. During silage, make sure that the silage is flooded with liquid. In the process we try, if the kimchi is acidic enough for us, we translate it into smaller jars. To stop the fermentation process, put it in a refrigerator or a cold cellar.
Happy and cheers!
I like to experiment with kimchi so I recommend trying other versions of this silage
Red kimchi made of Chinese cabbage and beetroot < br> Pumpkin kimchi
also check
Comments