September Bakery Amber serves Matnakash, a traditional Armenian flat bread. Bread can be prepared with sourdough or yeast.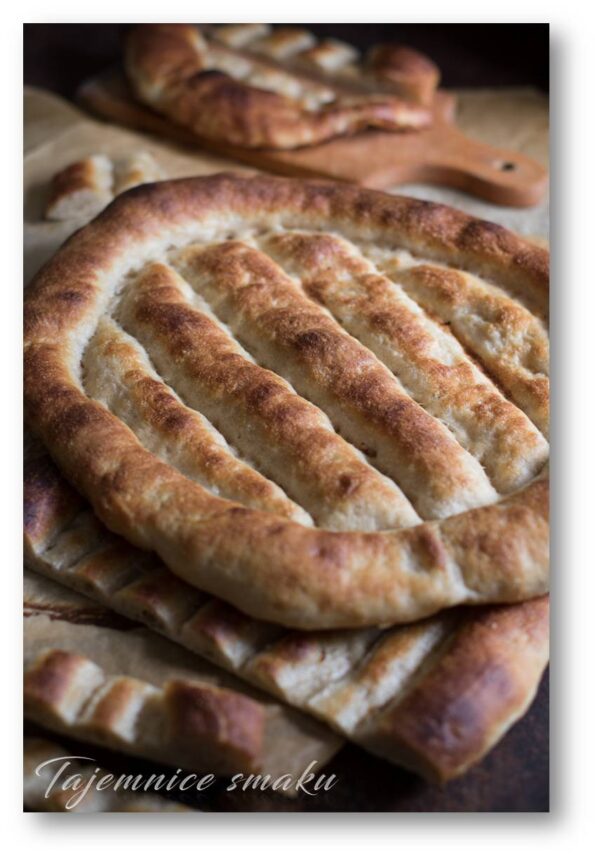 Traditional yeasted matnakash. My version of the bread is yeast and the recipe comes from Hub Pages. Thanks to recipes for bread from different corners of the world, we can feel like on a culinary holiday.
Ingredients
CAKE
500 g of bread flour type 750
1 level teaspoon of dried yeast
1.5 teaspoons of salt
0.5 teaspoon of sugar
350 ml of water
2-3 tablespoons of olive oil
TILE
30g of flour
150 ml of water
Execution
Pour 250 ml of warm water into a bowl and add the yeast. Allow the yeast to activate for 5-10 minutes. Add 200 - 230 g of flour, mix (the leaven should resemble gruel) and leave for 10 minutes. Then cover and place in a dark, warm place for 2-3 hours to double in volume.
Pour the remaining flour, salt and sugar into another larger bowl and add the leaven when ready. Knead the dough, add the remaining 100 ml of warm water in portions. Knead until the dough is soft, elastic and does not stick to your hands. Cover the dough again and let it double again.
In the meantime, we prepare the glaze. In a small saucepan, mix 30 g of flour and 150 ml of cold water. Cook slowly and keep stirring until the flour cream becomes thick, let it cool down.
Put the risen dough gently on a floured surface and divide it into two portions. Transfer each portion onto baking papers (one loaf fits on one baking sheet). Pour a little olive oil on your hands and with greased fingers, gently form an oval shape of the dough. Cover with cloths and leave for 20 minutes. Make characteristic "incisions" with the edge of the hand and fingers. Apply the glaze on the entire surface of the bread with a brush.
In the meantime, place the baking sheet in the oven. We heat the oven to 250°C. Place a heat-resistant dish with water on the bottom of the oven.
Carefully transfer the dough together with the paper to the heated baking sheet and bake for 10 - 15 minutes, until the matnakash turns golden brown. We study on the short.
Matnakasz on blogs:
Lilies of the valley in the kitchen< br>Gucia's kitchen
Kitchen door
Family plant-based
Secrets of taste
Kitchen privacy
also check
Comments