Ris A L'amande. Risalamanda. Cook your luck.
Ris Á L'amande is a traditional Christmas Eve dessert in Denmark. It is served cold with vanilla, almonds, whipped cream and hot cherry sauce.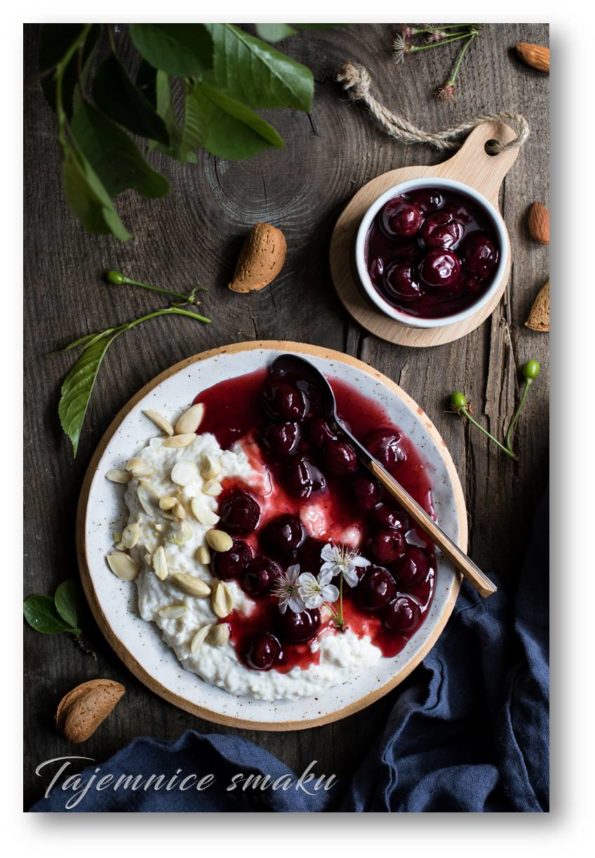 The recipe comes from Caroline Fleming's book "Cook Your Happiness. Like the Danes." Dessert is delicious, but I made some changes. These are not changes in ingredients or execution, but in proportions. I love cherry sauce, I made more of it and put my own version in the ingredients.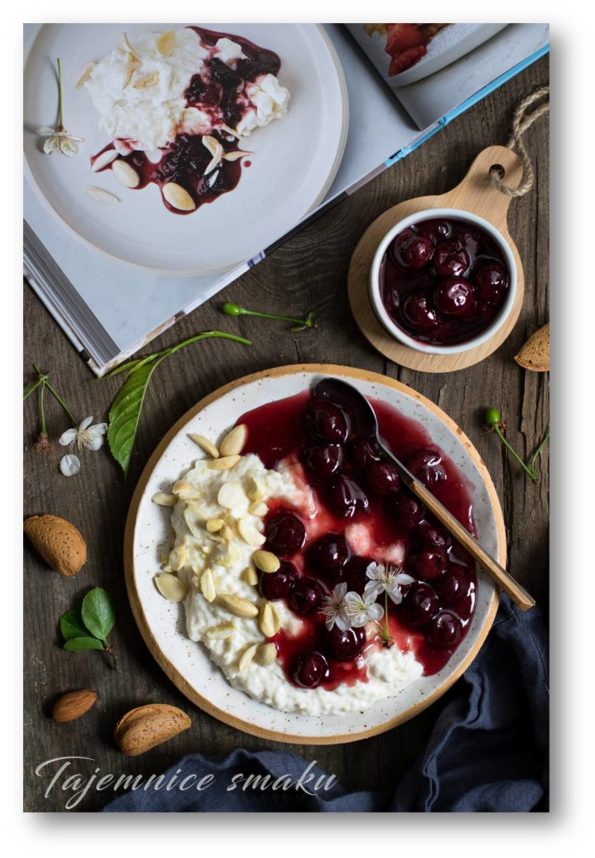 Rice pudding with whipped cream topped with a delicious cherry sauce.
Ingredients
PUDDING
250 ​​g of white rice (jasmine for me)
250 ​​ml of water
pinch of salt
1 liter of milk
CHERRY SAUCE
400 ml fresh or frozen cherries
300 ml of water
150 g brown cane sugar
1 tablespoon of vanilla sugar
1 tablespoon of potato or corn starch + 100 ml of water
RISALAMANDE  - Ris A L'amande
150 g of peeled almonds
2 teaspoons of vanilla sugar or vanilla essence
4 tablespoons of rum
600 ml of heavy cream 36%
Execution
PUDDING
Pour the rice into a strainer and rinse it under running cold water. Boil 250 ml of water in a pot, add rinsed rice, a pinch of salt and cook over medium heat for about 2 minutes. Pour in the milk and cook over low heat for about 45 minutes. We keep the rice under control all the time, stir, making sure that it does not stick to the bottom of the pot. Boil water in a kettle and, if necessary, add small portions to the rice. When the rice is soft and the whole dish has the consistency of a pudding, leave the pot to cool.
CHERRY SAUCE
Put the pitted cherries into a pot, add the measured water, sugar and vanilla sugar. Bring everything to a boil and cook over low heat for about 30 minutes. Mix the starch with 100 ml of water, add to the cherries, mix thoroughly to thicken the sauce. Ready pudding can be poured with such a fresh hot sauce, as well as cold from the fridge.
RISALAMANDE  - Ris A L'amande
Add vanilla sugar, coarsely chopped almonds and rum to the cooked and cooled rice pudding. Mix everything thoroughly and put it in the fridge. Whip the chilled cream and mix it gently with the cold pudding, put it back into the fridge to cool. Dessert tastes best when served cold, topped with hot cherry sauce.
I also recommend Rice pudding with fruit and coconut milk
also check
Comments