Brittle spicy cheese cakes - the perfect snack to go with wine or beer
Spicy shortbread cookies with tomato jam are the perfect snack for any occasion. They are sure to surprise with their taste, as they look like a sweet shortcake with fruit jam.
Tomato jam cookies.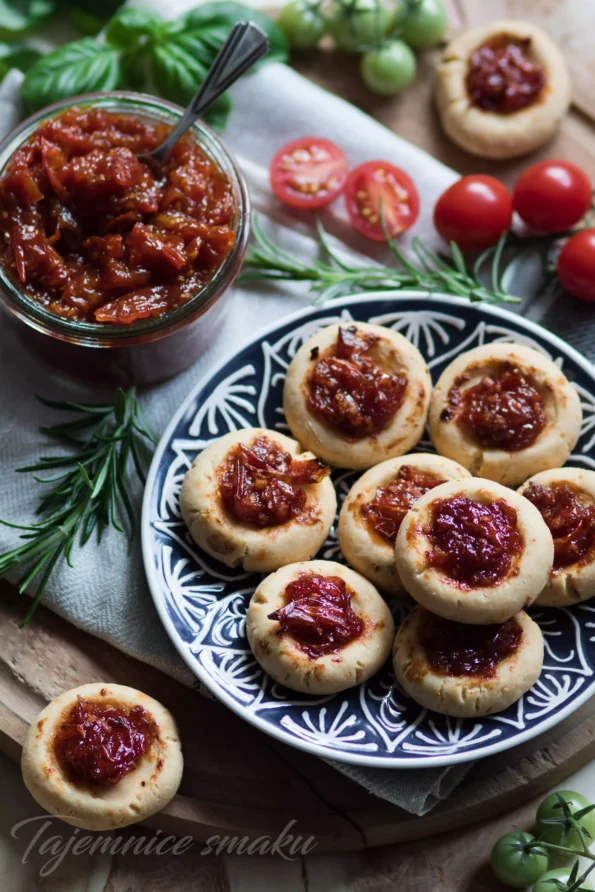 This is a great appetizer with wine or beer. Both the jam and the cakes are easy and quick to prepare. I recommend the tried and tested spicy tomato jam recipe
The cookies can be prepared without tomato jam, and before baking, sprinkle them with your favorite spices: cumin, nigella or rosemary. We can also use any other spicy chutney instead of tomato jam, such as orange with chili
For crispy cakes, we can use any yellow cheese. For example, it can be gouda cheese, universal in terms of flavor, as well as other more pronounced ones.
INGREDIENTS
300 g wheat flour type 500
1/2 teaspoon baking powder
1/2 teaspoon salt
135 g yellow cheese such as Gouda
150 g of butter
1 egg
a teaspoon of chopped rosemary needles
1/2 teaspoon ( or more) chili flakes
Make
Mix the cream cheese in a food processor, then add the chopped rosemary and chili, mix very briefly.
We mix flour, salt, baking powder.
Add pieces of butter, chop with a knife or blend in a food processor.
Add an egg, shredded yellow cheese and knead quickly by hand into a smooth dough.
Wrap in plastic wrap and place in the refrigerator for at least 30 minutes.
Remove the dough from the refrigerator and divide into 30 portions (each about 20 g ).
From each portion, form a ball, flatten slightly and with your finger press out an indentation, which you fill with tomato jam.
Preheat the oven to 175°C.
Bake the cookies for about 25 - 30 minutes , until lightly browned, cool on the griddle.
also check
Comments