Hot dessert. Deep fried plums in spicy batter.
Plums fried in batter are a quick and simple fruity dessert. Served with ice cream, they will be the perfect addition to coffee.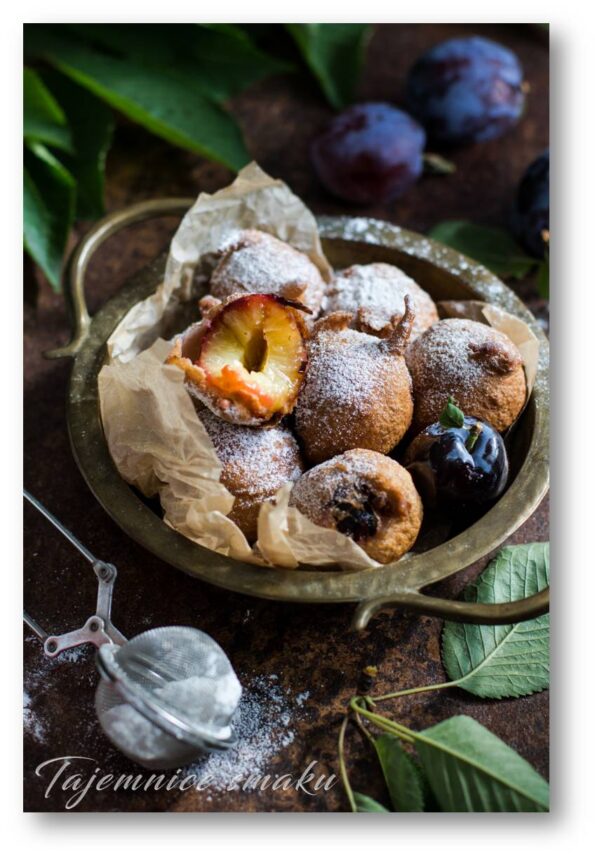 Plums go well with spices, so I added cinnamon, cardamom and pepper to the dough. These can be ground spices or whole spices to be crushed in a mortar. Instead of cinnamon, cardamom and pepper, you can use gingerbread spice, but it should be of good quality, preferably homemade. I recommend the recipe for homemade gingerbread spice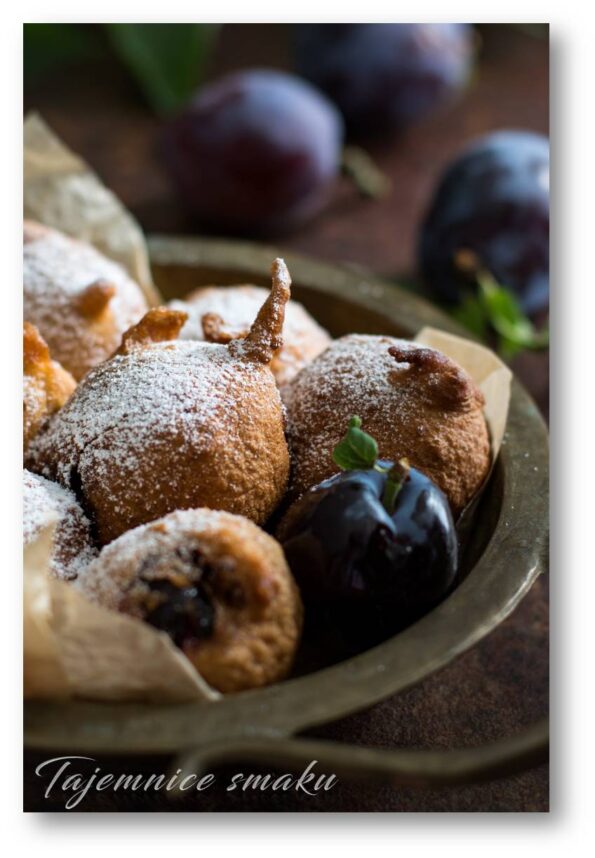 Ingredients
CAKE
130 g all-purpose flour
1/2 teaspoon baking powder
1/2 teaspoon cinnamon powder
a pinch of ground cardamom
a pinch of freshly ground pepper
pinch of salt
a pack of vanilla sugar or half a teaspoon of vanilla extract
100 ml of milk
1 egg
PLUMS
1 kg of medium-sized Hungarian plums
sugar for plums
frying oil 300 - 500 ml
powdered sugar for sprinkling
Execution
Mix all the ingredients for the dough with a whisk or mixer until you get a smooth, slightly thick dough. Cover the bowl and let the dough rest at room temperature for about 30 minutes, so that it rests and the gluten starts to work.
Plums are washed and dried. Cut the fruit only in half and remove the seeds.
In a saucepan with a thick bottom, heat the oil to about 175°C. If you don't have a thermometer, there's an easy way to check if the oil is ready for frying. Check by dipping a wooden skewer into the bottom of the pot. It can be a wooden spoon handle or a skewer stick, I also recommend bamboo sushi chopsticks. When small bubbles appear near the stick, the oil is ready for frying.
Pour sugar onto a plate, slightly open the plum and roll it in sugar only from the inside. We combine it again, dip it in the dough and carefully put it into the hot oil. It is worth using a skewer, a fork or, if you can, sushi chopsticks, so as not to burn your hands with hot oil. Fry the plums on each side until golden brown, remove with a slotted spoon (or bamboo chopsticks) and drain the oil on paper towels.
Sprinkle the plums with powdered sugar and serve. They taste great with ice cream or yoghurt.
Green cardamom, cinnamon, vanilla extract, wooden disposable bamboo chopsticks, and even good coffee can be ordered via the Internet at Cuisines of the world< /em>.
also check
Comments