Homemade chocolates - truffles with cranberry and chocolate - perfect for a gift
Chocolate truffles with cranberries, prepared by yourself at home, are the perfect idea for a Christmas gift. Anyone who loves chocolate will appreciate the value and taste of these wonderful sweets.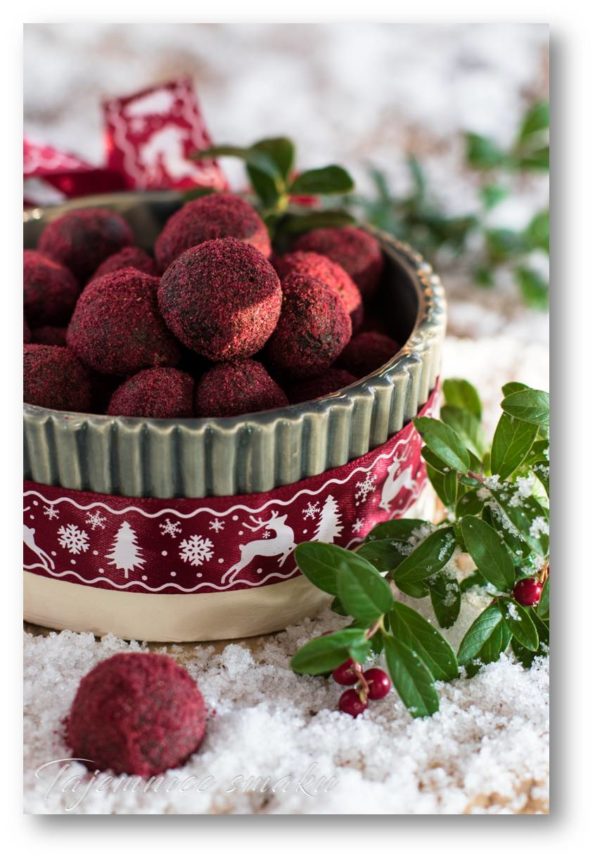 For added taste contrast, I recommend coating the truffles in powdered freeze-dried cranberries. It is quite acidic and has a beautiful color.
If you don't have freeze-dried cranberries, you can decorate truffles by rolling them in cocoa powder, powdered sugar, coconut flakes, crushed nuts or chopped chocolate.
The addition of cranberry liqueur to the truffles categorizes this recipe as an adult dessert. We can replace the tincture with cranberry juice and then we will also make younger truffle gourmets happy.
The ready mass for truffles is quite hard, to easily form balls, it is worth using a melon spoon. With such a spoon, we cut out balls, then form the final shape in our hands.
INGREDIENTS
20 g of dried cranberries
10 ml nalewka cranberry sauce
100 g dark chocolate 70%
100 g milk chocolate
80 ml heavy cream 30%
20 g butter
1 tablespoon of freeze-dried cranberry powder
Execution
Cranberries are finely chopped, pour the tincture and set aside for about half an hour.
Chop both chocolates finely.
Pour the cream into a pot and heat it until it boils, after with which we add chopped chocolate and remove the pot from the heat.
Stir vigorously until the chocolate melts completely.
Add the butter and mix again until a homogeneous mass is obtained. < /li>
We form balls from the solidified mass, put them preferably on a baking tray lined with baking paper.
Coat the ready balls in powdered freeze-dried cranberries.
also check
Comments