Homemade marzipan, marzipan mass - almond Christmas sweetness
Marzipan consists mainly of almonds, powdered sugar and almond flavoring or rose water*. The quality of the marzipan mass is determined by the ratio of sugar to almonds. The less sugar, the higher the quality of the product.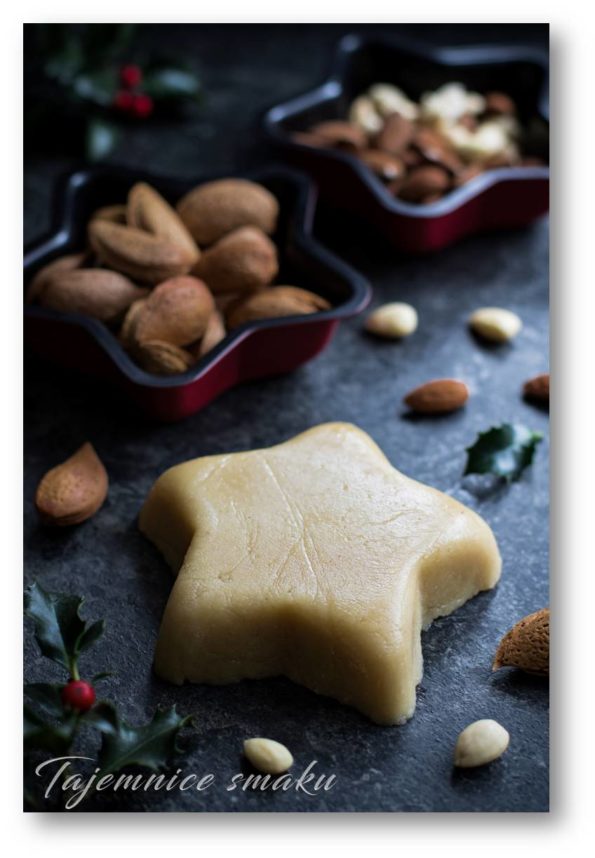 Can you make marzipan at home? Of course it is, and it's easier than you might think. As a result, we will get an incredibly delicious, aromatic, soft, almond delicacy.
Rose water is an excellent, aromatic addition to marzipans, creams, puddings and other sweets. In Arab countries, rose water is also used to cook meat.
INGREDIENTS
250 g of almonds with or without skin
250 g powdered sugar
20 - 30 ml water rose or almond liqueur (Amaretto)
a few drops of almond aroma
EXECUTION
Almonds with peel are poured with boiling water, left for 15 minutes, then peeled.
Mix the peeled almonds in a blender to the so-called sand/flour.
Add powdered sugar, mix for a short while, add rose water or liqueur and almond aroma, mix briefly again.
Put the mixture into a large bowl or on a pastry board and knead it until a homogeneous mass is obtained.
If the mass crumbles, you can add a little rose water or liqueur.
We form the ready-made marzipan mass as desired. We can roll it up or, like me, line the molds with cling film, fill with the mass, wrap in foil and put in the fridge for at least an hour.
Marzipan mass can be used in the recipe for Mini Stollen a mini version of Christmas strudel with marzipan, cottage cheese and nuts and dried fruit
also check
Comments