Homemade gingerbread from ripened dough, layered with hot jam, covered with chocolate and sprinkled with nuts
In early November, I set 2 batches of dough for Old Polish maturing gingerbread After a month of ripening in a cool cellar, I prepared gingerbread cookies from one portion, and gingerbread layered with plum jam from the other.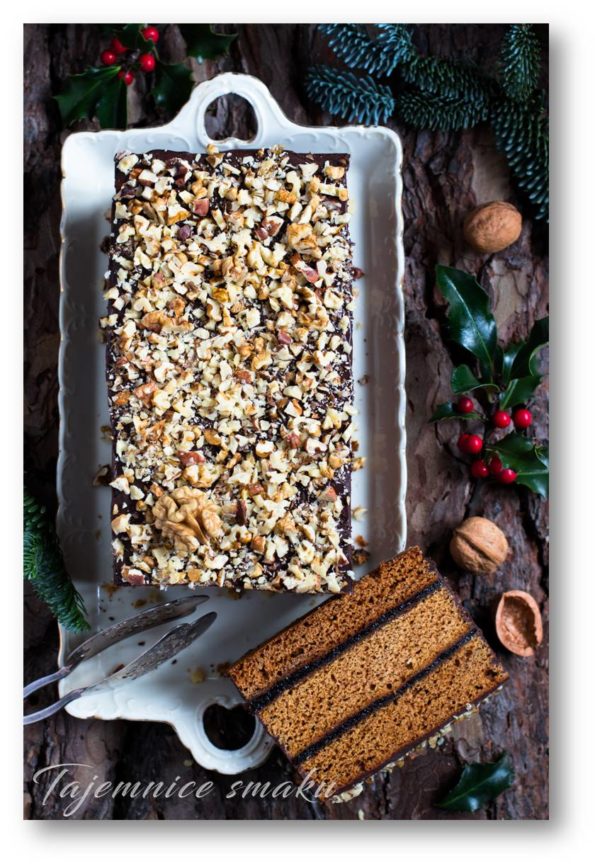 For the record, I give the recipe for the cake*.
Ingredients
BODY
500 g honey
250 g sugar
250 g butter
1 kg of flour, e.g. type 550
3 eggs
125 ml milk
1/2 teaspoon salt
3 teaspoons soda
30 - 40 g gingerbread spice - preferably homemade
For the sake of the recipe
CHOCOLATE PLASTER**
100 g dark chocolate
40 g butter
Additionally chopped walnuts
MAKING
WASHINGTON
In a pot over low heat, heat honey, sugar and butter.
Stir the whole time, and when the sugar has completely dissolved take the pot off the heat and cool.
Sift flour, baking soda and gingerbread spice into a bowl, add salt and mix.
Grind the eggs with the cooled mixture of honey, butter and sugar, preferably in a pasta machine, as the mixer may be too weak after adding the flour.
Gradually add flour with baking soda and gingerbread spice, while blending, gradually water in the milk.
Prepared dough, either leave it in a pastry machine or transfer it to a jar or stoneware pot.
Cover with a cloth and set aside in a cool place for 5 - 6 weeks.
PIERNING
Dough is divided into 3 portions.
Each portion is rolled out and placed in a 39 x 26 cm pan lined with baking paper.
Bake individually gingerbread cakes about 20 - 25 minutes at 170°C, cool.
Translate the cooled gingerbread tops with warmed plum jam, cover them with baking paper, put the tin in which they were baking on them and weigh them down.
We can use, for example, rocks, jars or cans of preserves to weigh them down.
Place aside in a cool place for a minimum of 3 days, after which time the dough will soften and fuse with the jam.
The finished gingerbread cake can be divided into 4 parts and, according to your preference, poured with chocolate or icing and sprinkled with nuts.
CHocolate frosting
In a pot melt butter, take off the burner, add chopped chocolate, stir. Decorate the cake with the smooth glaze and sprinkle with chopped walnuts.
Tasty!
* The recipe for the cake comes from the blog "My baked goods"
** The toppings according to the given proportions are enough for the whole gingerbread, without dividing. If you divide the finished dough into 3 - 4 smaller gingerbread, you need to increase the amount of ingredients for the glaze accordingly.
also check
Comments