Homemade Christmas gingerbread - gingerbread made of maturing Old Polish gingerbread dough
In early November, I prepared two portions of cakes for old Polish maturing gingerbread. After a month of maturing, I decided to prepare gingerbread from one part. My niece Hania came to my aid, so it was a lot of fun.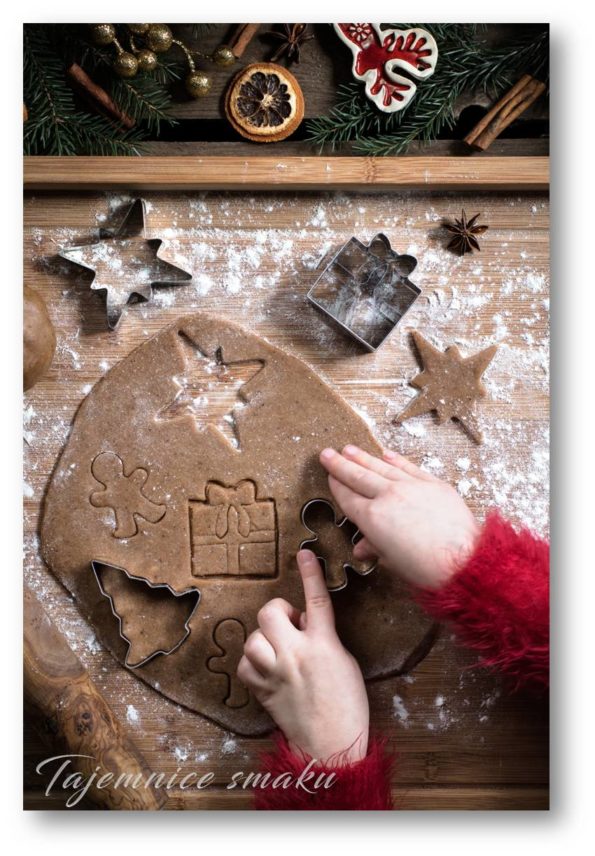 As a reminder, here's the cake recipe:
INGREDIENTS
500 g of honey
250 g of sugar
250g of butter
1 kg of flour, e.g. type 550
3 eggs
125 ml of milk
1/2 teaspoon of salt
3 teaspoons of soda
30 - 40 g spices for gingerbread   -preferably homemade li>
EXECUTION
Heat the honey, sugar and butter in a slow cooker.
Stir all the time, and when the sugar is completely dissolved, remove the pot from the heat and let it cool down.
Sift flour, soda and gingerbread spice into a bowl, add salt and mix.
Whip the eggs with the cooled mass of honey, butter and sugar, preferably in makurze, because the mixer after adding flour may turn out to be too weak.
Slowly add the flour with soda and gingerbread spice, gradually pour in the milk while whipping.
The finished dough is either left in the wastepaper or put into a jar or a stoneware pot.
Cover with a cloth and leave in a cool place for 5 - 6 weeks.
Roll out the ripe dough on a lightly floured board or countertop to a thickness of about 3 mm.
Cut out hearts, Christmas trees, gifts, gingerbread men from the dough... and place them on a baking sheet lined with baking paper.
Bake for 10 - 12 minutes at 170°C.
We store ready-made cookies in a closed container, they look nice in a metal Christmas can.
We can glaze gingerbread cookies, cover them with chocolate, decorate them with various sprinkles.
also check
Comments