Delicate and crunchy herbal tartlets, a savory snack for Easter
Thyme tartlets filled with green mousse, decorated with smoked salmon, quail egg and crispy bunny. Delicate and crunchy herbal tartlets are an idea for a savory Christmas snack.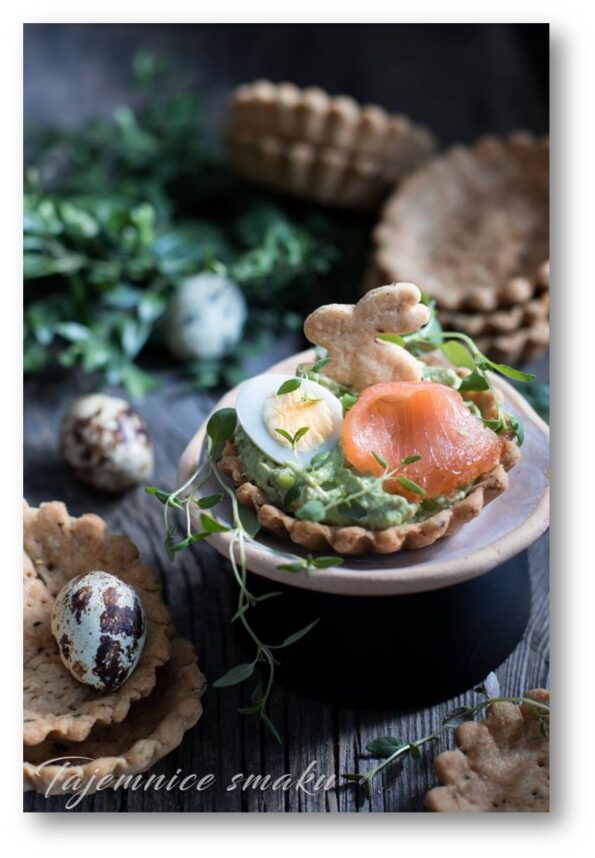 You can add thyme to the dough, as well as other fresh herbs (rosemary, basil, parsley, oregano). I filled my tartlets with avocado cream, salmon and egg. This is just a suggestion, you can stuff the baked cookies with your favorite mousse or even a salad. I recommend stuffing them just before serving.
Ingredients
CAKE
150 g cake flour

That's it!

100 g of coarse flour
120 g cold butter
1 egg
1-2 tablespoons of cold water
pinch of salt
1/2 bunch thyme
Avocado Mousse
2 avocados
125 g of cream cheese (e.g. Philadelphia) 
2 tablespoons of lemon juice
1 small shallot or spring onion
1/2 tsp pumpkin seed oil - (for color) optional
salt
pepper
ADDITIONAL
about 300 g of sliced ​​smoked salmon
hard-boiled quail eggs
Execution
CAKE
Thyme wash and dry. Remove the leaves from the hard stems, chop the soft stems together with the leaves.
Sift the flour into a bowl or onto a pastry board. Add thin flakes of butter to the dough, add salt. Rub the butter with flour into small crumbs with your fingers. Add thyme, egg and quickly knead everything to a smooth dough. Add 1-2 tablespoons of cold water if needed. Wrap the dough in foil and put it in the fridge for at least 1 hour.
Take the dough out of the fridge onto the pastry board and leave it for 10 minutes. Then roll out the dough thinly on a lightly floured board. Cut out circles about 1 cm larger than the diameter of the mold. Fill the molds with the dough, press down and prick with a fork.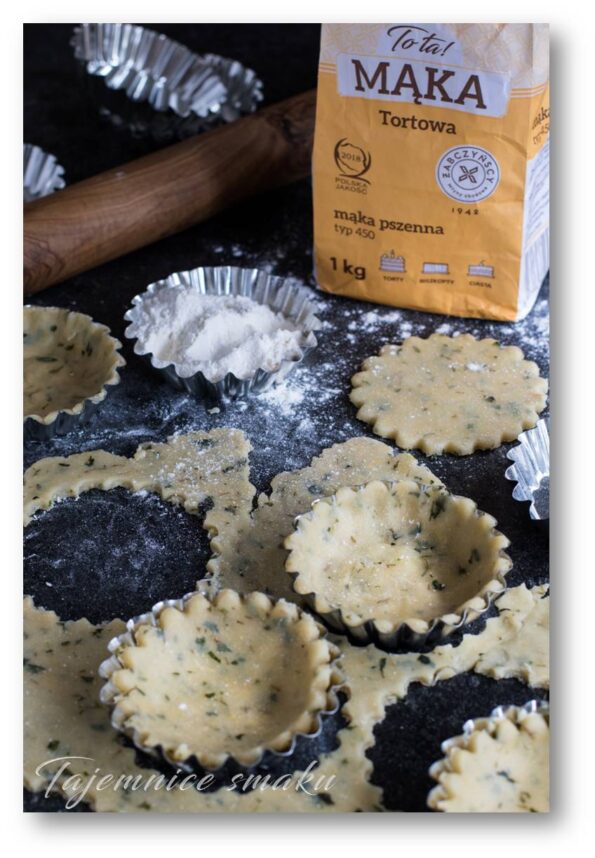 We can cut out bunnies or other shapes from the leftover dough.
Preheat the oven to 200°C. Bake the tartlets for about 30 minutes (small cookies - bunnies take less time). Carefully remove the baked tartlets from the molds and cool them on a wire rack.
Avocado Mousse
Cut the avocado in half, remove the pit and scoop out the pulp, sprinkle with lemon juice. Cut the shallot into small cubes, chop the spring onions. With a fork, mash the avocado pulp with cream cheese and pumpkin seed oil. Add the shallot, season with salt and pepper and mix.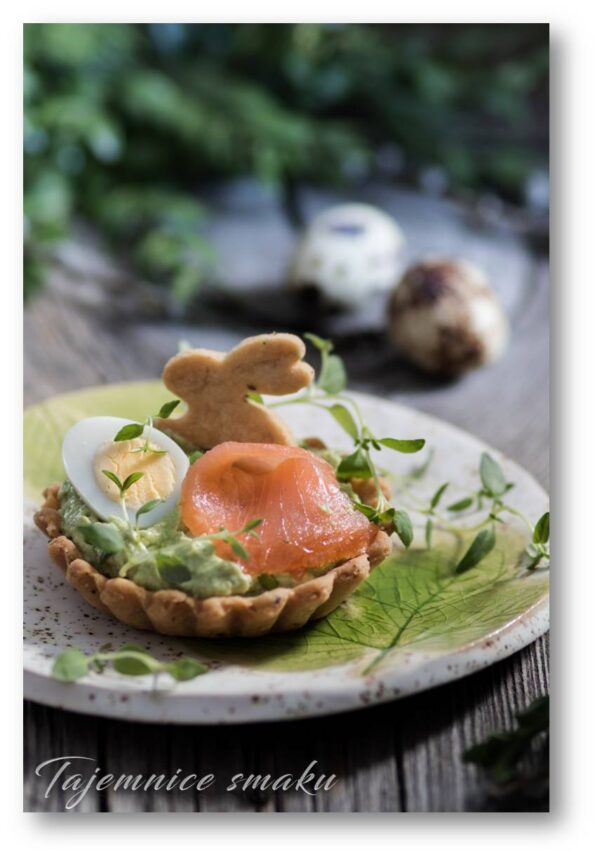 Before serving, fill the tartlets with avocado cream, decorate with a quail egg, a slice of salmon and a cookie.
Enjoy!
also check
Comments