Fish soup in a cauldron
Fish soup according to this recipe can be prepared over a fire in a cauldron, as well as at home, in a pot. The choice of species of fish and seafood is also free. It all depends on the availability in our nearby stores :-) It is important, however, that they are sea fish, because they give the soup an intense fishy taste and aroma.
Cilantro can be replaced with parsley... but then it's a different soup ;-)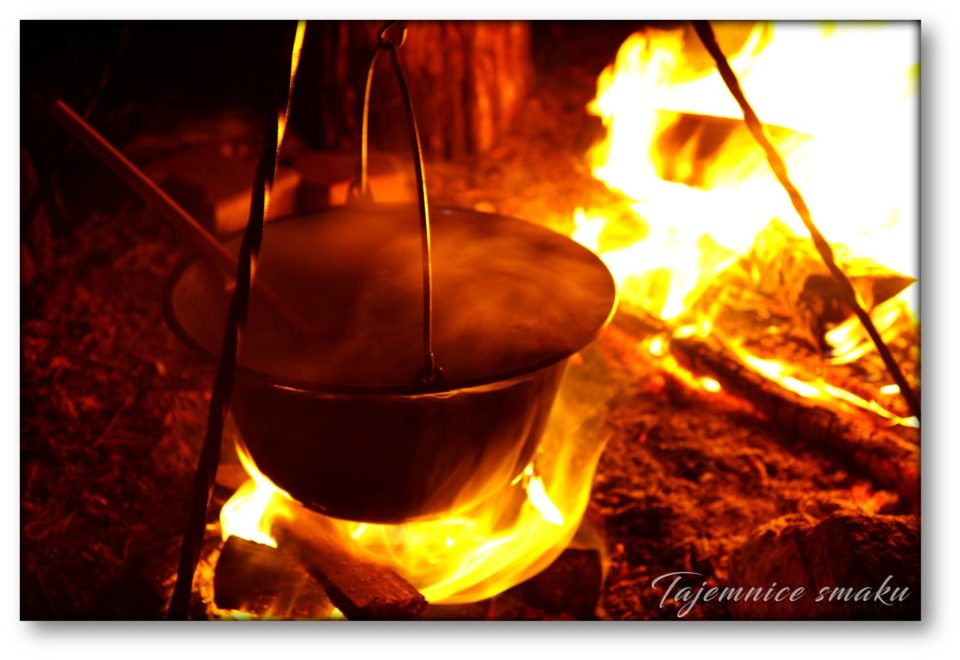 Ingredients
1kg of filleted fish cut into pieces (salmon, cod, halibut)
200g shrimp
200g squid (rings)
2 peppers - red and green cut into strips
4 medium onions, sliced
6 garlic cloves, crushed and chopped
50ml olive oil
500g potatoes, peeled, diced
400ml dry white wine
1l water or fish broth*
1 can of chopped peeled tomatoes
2 tbsp tomato paste
1 teaspoon Sambal Oelek (chilli paste)
3 tablespoons chopped parsley
2-3 bay leaves
10 peppercorns
3 grains of allspice
pinch of saffron
salt, pepper
chopped coriander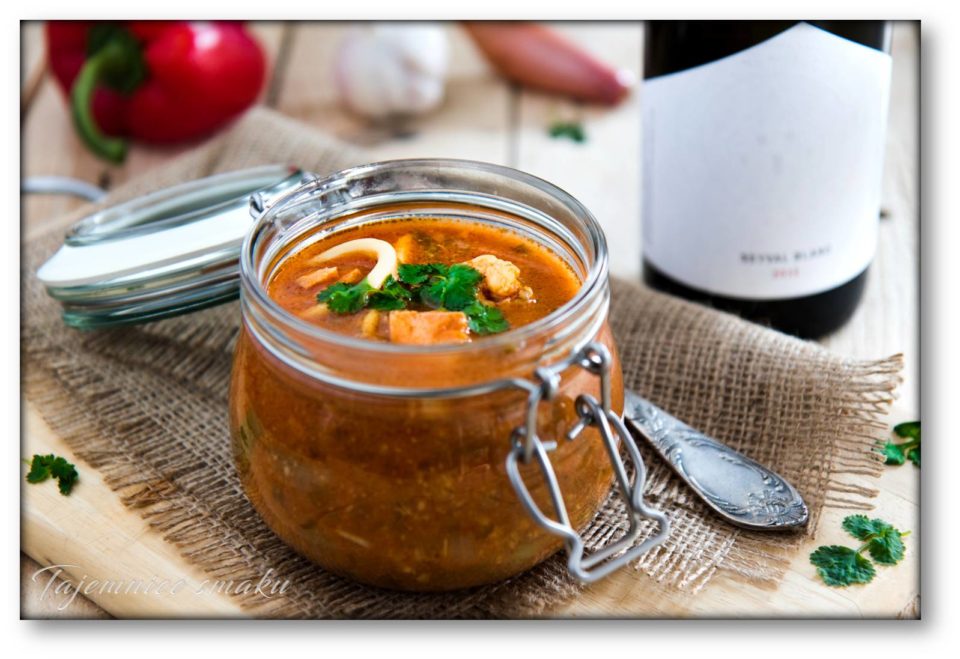 Fish soup in a cauldron
We light a fire :-)
Pour the olive oil into the cauldron, fry the onion in it, about 5 minutes. Add the peppers, garlic, potatoes, fry for 10 minutes, stirring constantly. Add parsley, bay leaves, allspice, peppercorns and saffron, pour wine and water (broth), mix, cover and cook for about 20 minutes.
We control the fire in the hearth - it should be "medium" ;-)
Then add the calamari for another 10 minutes, then the tomatoes, tomato paste and sambal oelek. We check if the potatoes are soft. Season with salt and pepper.
Finally, put the fish and prawns in gently. Do not stir so that the fish does not fall apart, cook for about 10 minutes.
Serve the soup in bowls or jars, generously sprinkled with coriander.
* Fish broth  - If we manage to buy whole fish and shrimps in shells - we prepare the fish, fillet them, peel the shells from the shrimps and clean them. Fish heads, fins, spines, shrimp shells - throw all this into the pot, pour water and cook over low heat for about an hour. We can add vegetables and spices. Then we strain it and we have an aromatic fish broth that we can use in the recipe instead of water.
Fish shops often sell fish heads, we buy them and freeze them. When we cook fish soup, fish risotto, then, without even thawing the heads, pour water, add spices and vegetables, simmer, drain, and we have homemade aromatic fish broth.
Save< /span>
Save< /span>
Save< /span>
Save< /span>
also check
Comments