<! - wp: image {"id": 1824} ->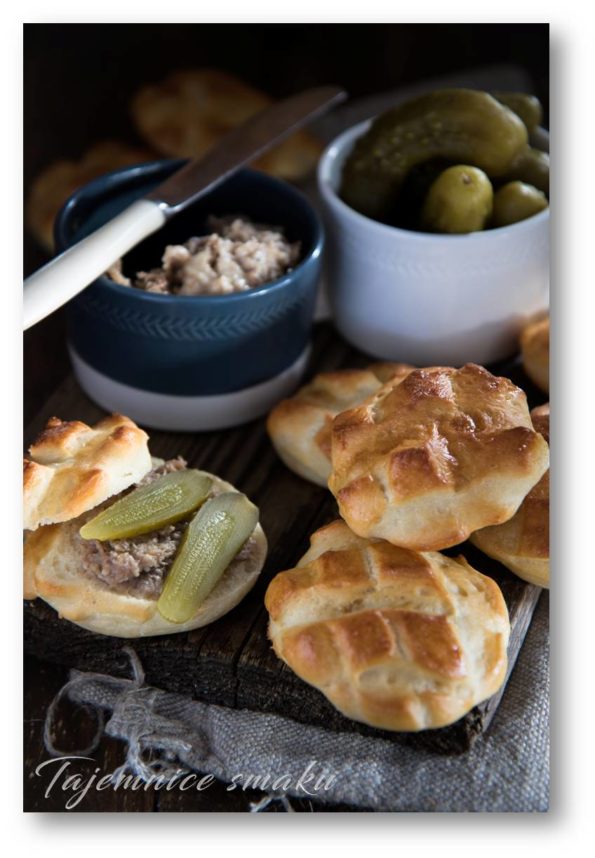 <! - / wp: image ->
Pogácsa - pogacze are Hungarian potato rolls.
Hungarian buns with Polish pickled cucumber and French rillettes from geese . Delicious international trio.
Potatoes for these rolls can be previously cooked in uniforms, cool, peel and pass through the press. We can also use potatoes left over from dinner the day before.
Recipe from Please good thing prepared as part of the event Baking for breakfast .
Ingredients
300 g of potatoes
500 g of flour
2 tablespoons of lard (I added goose lard)
200 ml of milk
20 g yeast
1/2 teaspoon of sugar
1/2 teaspoon of salt
1 egg
Execution
Boil the potatoes in their jackets until tender. We cool down, we peel and pass it through Praga.
Dissolve yeast and sugar in warm milk, set aside for 15 minutes for the yeast to start working.
Add flour, yeast leaven and salt to the potatoes. We knead dough and add the melted and cooled fat during the process. We make smooth and elastic dough. Cover with a cloth and set aside for about 1.5 hours to rise, until the dough has doubled in size.
Knead the dough for a short time, roll it into a cake, about 2 cm thick. Cut the dough with a sharp knife into a grid. Cut out circles with a glass and put them on a baking sheet lined with baking paper. Knead the remaining scraps of the dough again, roll it out, cut the buns and cut them out, repeat the procedure until all the dough is used up. Brush the buns with the beaten egg and let it rise again for about 30 minutes.
Bake the rolls in an oven preheated to 180 ° C for about 25 - 30 minutes, until they are golden brown.
Enjoy your meal!
Buns baked with others:
Justyna Wojciechowska photo from FB
My Little Charm
>Kamaku. en / 2019/03/09 / wegierskie-potato-buleczki-pogacsa-pogacze /? fbclid = IwAR1P6J0F6rgaek1D9T_RSSYoVBg8X2j7PPn8vgO6HDSivHrz-q1linc3pEA "> Mysteries of taste Dorcia in the kitchen
Weeken in the house and in the garden
Jasmine Kitchen
also check
Comments