Yeast pretzels with salt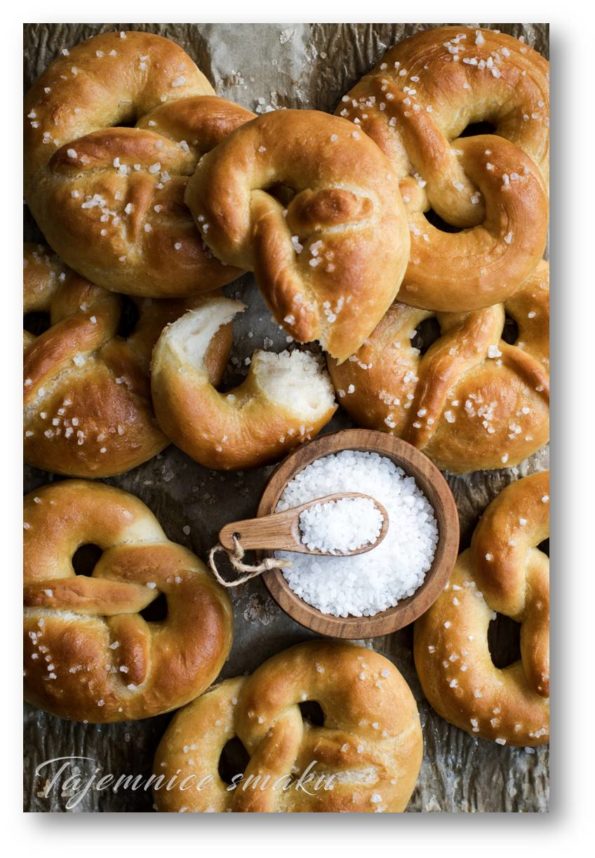 Butter pretzels are exceptionally tasty, quick and easy to make. We baked the pretzels together at Amber Bakery, and the original recipe comes from Salt&Baker.  My version is slightly modified, but not because I wanted to add my two cents. The reason was different, I don't like recipes "for glasses". The pretzels are so tasty that I had to knead, braid, soak and bake three times over the weekend.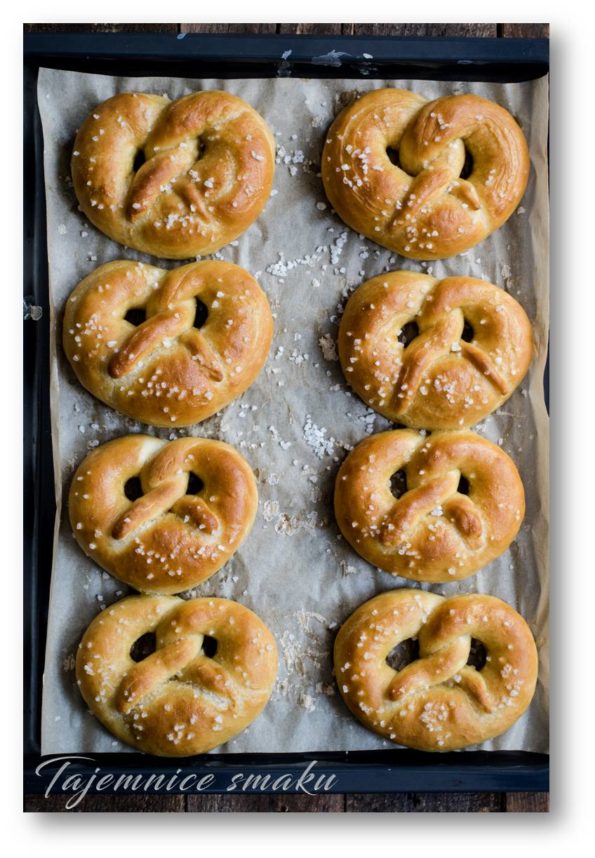 Ingredients for 8 pretzels
25 g fresh yeast
250 ​​ml of lukewarm water
1 teaspoon of sugar
400 g of flour (I use type 500)
1/2 teaspoon of salt
30 g of soft butter
Additionally
350 ml of water + 3 tablespoons of baking soda
a teaspoon of coarse salt
30 g of melted butter
Execution
Pour 250 ml of water into a bowl, add yeast and sugar, mix and set aside for 5 minutes. Then add the flour and salt, mix and knead the dough for about 5 minutes, preferably in a mixer with a hook. When the dough pulls away from the sides, add pieces of soft butter. Knead again until the dough absorbs the butter and is elastic and smooth. Then cover the bowl with foil and leave to rise at room temperature for 30 minutes.
While the dough is rising, prepare a solution of water and soda. Boil water, remove from heat and add baking soda, stir until completely dissolved. Pour the mixture into a dish with a flat bottom (a large glass casserole mold worked for me) and let it cool down.
Put the risen dough on a floured surface and divide it into 8 parts. From each portion of the dough, form a 60 cm long roller, and then weave a pretzel - photo instructions .
Soak the pretzels in the solution of water and baking soda for about 2 minutes. If they are not completely submerged, pour the liquid on top with a spoon. Then gently transfer the pretzels to a baking sheet lined with baking paper and sprinkle with coarse salt. We leave the pretzels on the baking tray for about 10 - 15 minutes.
Heat the oven to 200°C and bake the pretzels for 10 - 15 minutes or until golden. Remove from the oven and while still hot, brush with melted butter.
Enjoy!
Pretzels on blogs:
Acacjowy blog< br>Cook healthy and colorful
Lilies of the valley in the kitchen
Alicja's kitchen
Gucia's kitchen< /a>
Kitchen door
My academy of taste
My Little Magic
Babylon's gardens
Weekends at home and in the garden
Kitchen retreats
Secrets of taste>
also check
Comments