Catalan fish soup - bullinade with garlic, lemon and chili mayonnaise
Bullinada is a Catalan fish soup with garlic mayonnaise. It has an unusual and delicate taste, reminiscent of bourride from the French Riviera and gazpachuelo from Malaga.
Bullinade is sometimes made with just squid, sometimes shrimp and mussels are also added. The soup can also be prepared with white fish, such as cod or hake.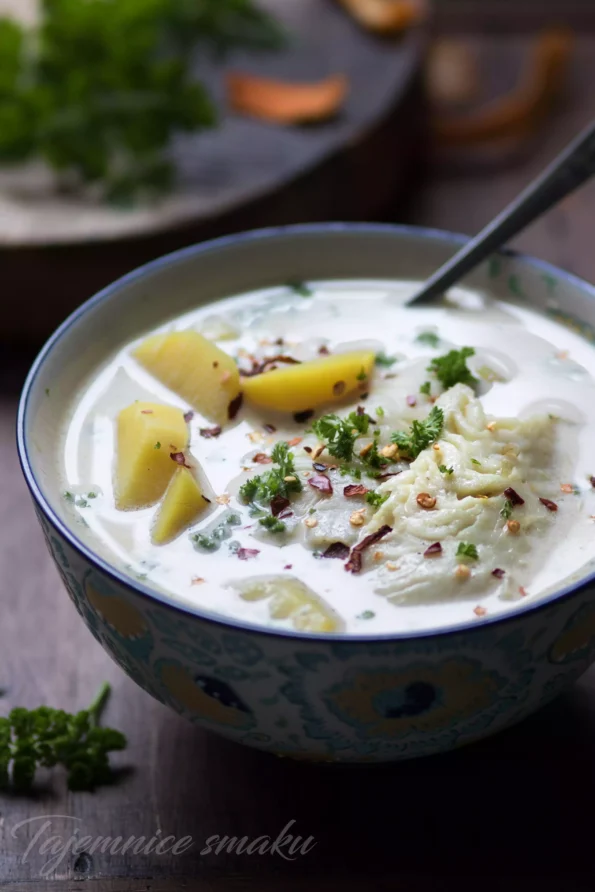 The recipe for the soup comes from the book by Claudia Roden Mediterranea. Kitchen of the sun. In my version, I reduced the amount of mayonnaise, thanks to which I slimmed down the dish a bit. Claudia suggests in her book that we can prepare the soup in advance and finish it in a few minutes just before serving. That's a very good idea.
INGREDIENTS
1 large onion
2 tablespoons of olive oil
8 garlic cloves: 6 finely chopped and 2 pressed
a generous pinch of saffron threads
100 ml dry white wine
2 liters of fish or vegetable broth
800 g small potatoes, peeled and cut into 1/2-inch slices
1 teaspoon of seeds fennel
strips of peel from 1/2 orange
800 g skinless fish fillets - hake or cod
100 ml of good quality mayonnaise
juice squeezed from 1/2 lemon.
a generous pinch of chili and more to serve
4 tbsp chopped parsley
salt and pepper
EXECUTION
In a pot with a thick bottom, heat the oil, add the chopped onion and fry over medium heat for 5 minutes.
Add 6 chopped garlic cloves and fry, stirring, for another 2 minutes.
Add the saffron threads and the fennel seeds, mix and pour the wine, and after 2 - 3 minutes the broth.
Add the potatoes and orange peel, season with salt and pepper, cover and cook for 20 - 25 minutes, until the potatoes are tender. After this time, we take out the orange peel.
10 minutes before serving, put pieces of fish fillets into the boiling soup and cook covered for 5 - 10 minutes, until the meat is set.
In a mug, mix mayonnaise with lemon juice, 2 cloves of garlic and a pinch of chilli.
Just before serving, pour 1 - 3 tablespoons of hot stock into a cup with mayonnaise, stir vigorously. Pour the mayonnaise into the soup and mix it gently.
Heat, but do not bring to a boil, so that the mayonnaise does not curdle. If necessary, season with salt and pepper and optionally acidify with lemon juice.
Serve the soup sprinkled with parsley and chilli.
also check
Comments