Apple wheat and spelled sourdough bread. Bread with apple juice and apple. Homemade sourdough bread baked in a cast iron pot
Baking bread at the weekend is a tradition in my house. Then the house smells like freshly baked bread, the aroma of which magically calms everyone down. This time the aroma of the baked bread was a little different, slightly fruity, because the bread contained apple juice and grated apple.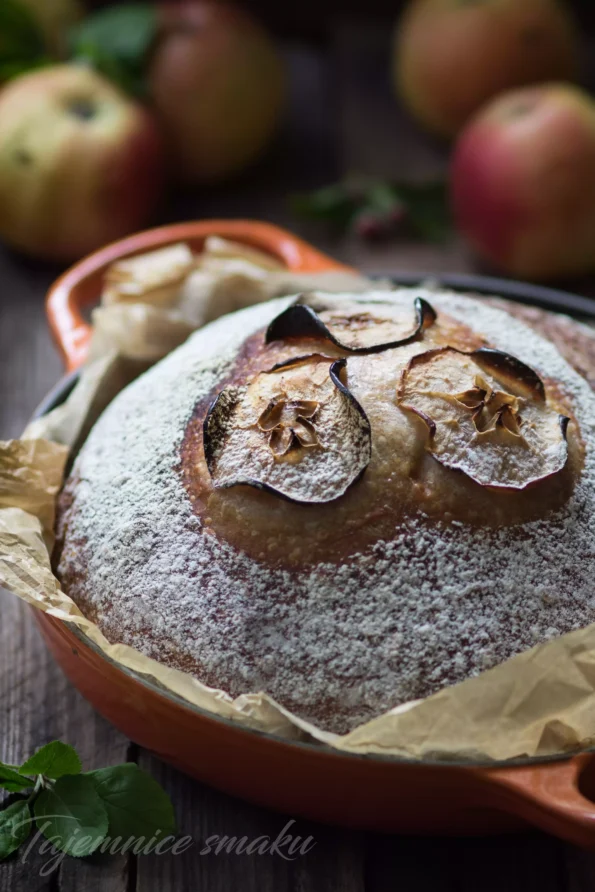 Apple bread is slightly sweet, has a delicate aroma of apples, which does not dominate, thanks to which the bread can be eaten with various toppings. The loaf is springy, moist, with a good even texture. It tastes great with pâté and caramelized onion.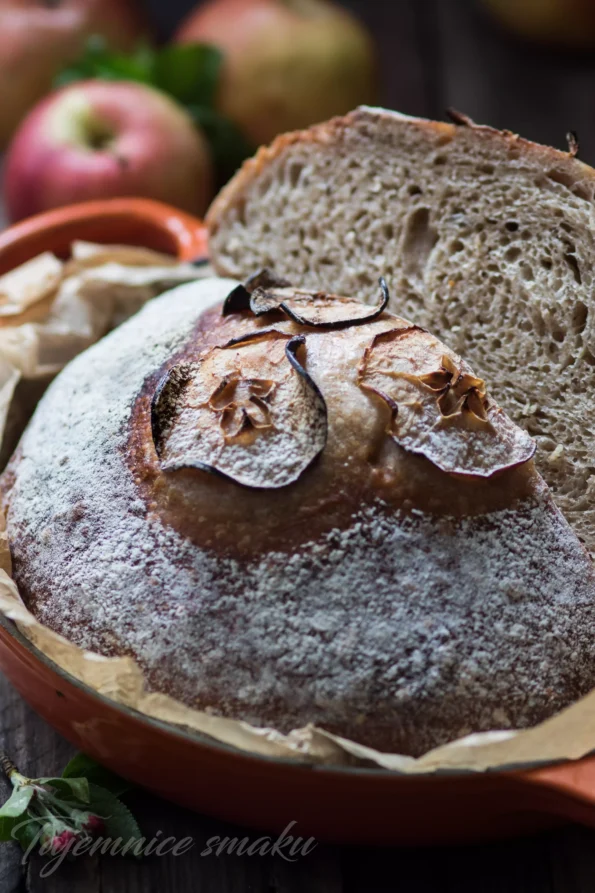 INGREDIENTS
GROUT
20 g of active sourdough starter
40 g wheat flour type 750
40g water
RIGHT DOUGH
100 g leaven
350 ​​g wheat flour type 750
150 g wholegrain spelled flour type 2000
300 g of apple juice, naturally cloudy
1 apple, about 80 - 100 g
10 g of honey
10g salt
EXECUTION
Mix the ingredients for the leaven, cover and leave for 8 - 10 hours. For me it is usually between 6.00 - 8.00 in the morning.
Before kneading the bread dough, cut the washed apple into quarters and remove the nests. seed. Rub together with the peel on a fine-mesh grater.
When the sourdough is ready, mix it in a bowl with the juice, honey, grated apple and flour, just until the ingredients are combined.
Cover the bowl and leave it at room temperature for 1 hour.
After an hour, add salt and knead/mix the dough thoroughly.
Let it rest for 15 minutes, then start assembling.
During fermentation, fold the dough 3 - 4 times, 30 minutes apart, until it visibly increases in volume and a strong gluten mesh is formed.
Assembling the dough - with a hand moistened with water, we grab the dough on one side, stretch it slightly and fold it inwards. We turn the bowl with the dough and repeat 3 - 4 times on all sides.
Put the dough on a surface sprinkled with flour, form an oblong or round loaf and put it in the proofing basket.
We can decorate the bottom of the basket with a few apple slices smeared with lemon juice before putting the dough in.
Cover the basket and place it in the fridge for proofing for about 10 - 18 hours.
Before baking, heat the cast iron pot in the oven for about 30 minutes at 250°C.
Gently put the loaf on the baking paper, cut it, e.g. with a razor blade.
Put the cut bread together with the paper into the preheated pot and bake the first 20 minutes at 250°C with the lid on.
Then remove the lid, reduce the temperature to 210/230°C (the temperature depends on the oven) and bake for another 20 minutes.
The baked bread is cooled on the grate.
Inspiration - a recipe for spelled bread with apple from the book Just bread. Homemade sourdough bread - step by step - Siegfried Brenneis
also check
Comments