Muffins with black cocoa, dark beer, chocolate and raisins
Black cupcakes can be baked in jars or in a muffin form. If you decide to use the mold version, see how to make paper muffin cups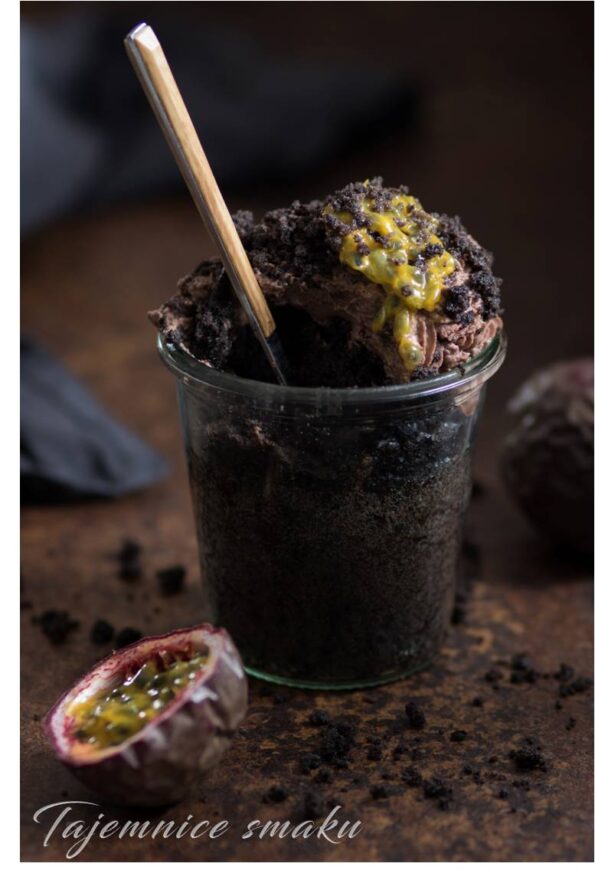 The version of cupcakes baked in a jar is more practical than the version in tins. We can store the dough in a hot jar for much longer. When we feel like something sweet, we can reach the fridge for a jar with a cupcake.
It's also a nice idea to use such a cupcake for a layered dessert. Open the jar and crumble the dough finely. Layer layers of cream, fruit and crumbled cake in several jars/glasses, similar to: >forest moss in a jar or < a href="https://tajemnicesmaku.pl/2017/10/07/warstwowy-deser-z-lesnym-mchem-mango-granatem/">layered dessert with forest moss, fruit, yogurt
Ingredients
CAKE
250 ​​g of wheat flour type 500
1 level teaspoon of soda
1 level teaspoon of baking powder
pinch of salt
25 g raisins
50 g dark chocolate 70%
150g of sugar
150 g of melted and cooled butter
3 eggs
250ml dark beer
ADDITIONAL
butter to spread on jars
CREAM
230g mascarpone
1 - 2 tablespoons of dark cocoa
250 ​​ml of cream 30 - 36%
2 - 3 tablespoons of powdered sugar
fruits to garnish
Execution
CAKE
Melt the butter and let it cool down.
In one bowl, mix the flour, soda, baking powder and salt. Add raisins and chopped chocolate, mix. In another bowl, beat eggs with sugar, add cooled butter and dark beer, mix.
Mass the inside of the jars up to 2/3 full with butter.
Preheat the oven to 170°C
Combine dry ingredients with wet ingredients and mix gently. Pour the mass into the jars, up to 2/3 of the height, being careful to keep the edges of the jar clean. Put the jars (without caps) into the preheated oven and bake for about 30 - 40 minutes or until a toothpick comes out dry.
Carefully, wearing protective gloves, we take the jars out of the oven and close them hot immediately. Cool the dough in closed jars, then put it in the fridge.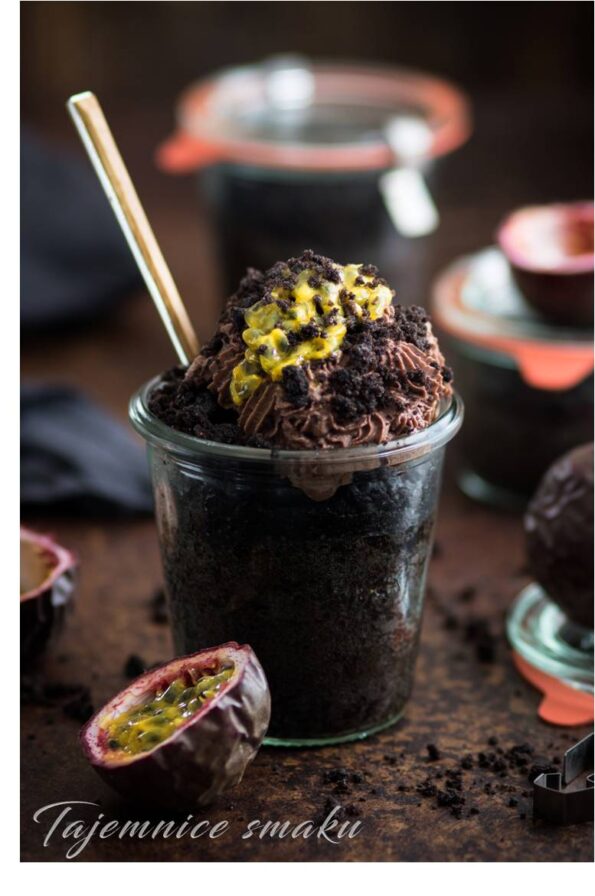 I baked black cupcakes in WECK jars with a rubber band and springs. We can bake the cake in ordinary jars, closed with a twist cap, the effect will certainly be the same.
The dough prepared in this way can be stored in the fridge for up to four weeks (supposedly longer, but I haven't checked it). Before opening, make sure that the dough has retained its vacuum well (you should hear a characteristic hissing sound when opening, as in the case of preserves).
Cupcakes can be served with cream and fruit. We can pierce them with a toothpick before serving and soak them with punch, e.g. with alcohol.
CREAM
Mascarpone is thoroughly mixed with cocoa.
Whip well-chilled cream with sugar until creamy, at the end of whipping add mascarpone. Beat the whole thing for a while and put it in the fridge.
How to bake and store a cake in a jar?
Here are some practical tips:
Jars, lids, rubber bands should be sterilized (steamed).
The jars should be filled with dough up to 2/3 of their height. The dough expands during baking, so we need to leave enough space to close the jar afterwards.
We bake the dough in jars without a lid.
Baking time depends on the capacity of the jars.
To check if the cake is baked, it is worth carrying out a dry stick test
The jars should be closed quickly, immediately after baking the cake. A vacuum will be created inside and then the cake can be stored in the fridge for up to four weeks.
When opening, we should hear a characteristic hissing sound, just like when opening preserves. We are then sure that the vacuum has been created and the dough is fit for consumption.
also check
Comments