Homemade gooseberry tincture with the addition of ginger and vanilla. Gooseberry - an exquisite liquor. This is one of the most liked and appreciated tinctures among guests.
I like eating gooseberry fruits the most raw, straight from the bush. However, I won't be able to eat them all, so I use the rest for baking, for preserves and for liqueurs.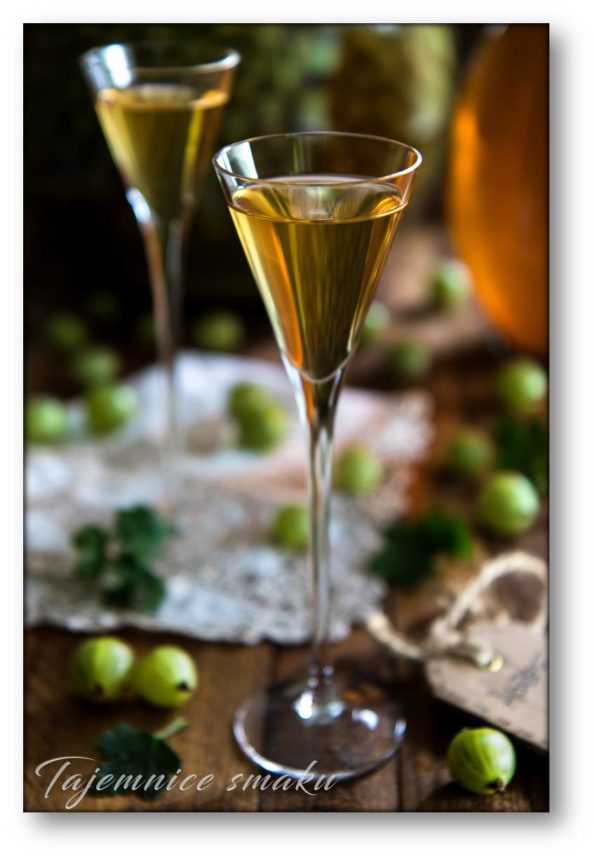 Gooseberry is one of my favorite liqueurs in my home. Every season I made minor changes to the recipe, but this version was approved collectively with the appeal: Don't change anything!
Ingredients
PHASE 1
1 kg of gooseberry
a piece of ginger root - about 1 cm
1 vanilla pod
70% alcohol (about 700 ml) li>
2nd STAGE
III STAGE
EXECUTION
PHASE I - Wash and dry the gooseberry fruits, cut off the stalks and petioles with scissors. Pour the gooseberry into a demijohn, add ginger root, vanilla stick. Pour the alcohol over the whole thing so that all the fruits are covered with liquid. Close the gander tightly and leave it in a warm and sunny place for 2 months. After this time, pour the gooseberry alcohol into a separate container and close it tightly.
SECOND STAGE - Cover the remaining fruits in the demijohn with sugar and leave for about 3 weeks. Combine the fruit and sugar syrup with the gooseberry alcohol.
III STAGE - Pour the gooseberry fruits with pure vodka again, leave for 2 weeks, stirring often. After this time, the resulting fruit alcohol is mixed with the previously prepared gooseberry infusion. Leave the whole thing for 1 month in a warm and shady place. The tincture is strained, filtered, bottled and aged for at least 6 months.
also check
Comments