Goose oats - delicious goose spread - rillettes, French goose lard
Rillettes in French, meat spread in ours. Probably tastes best in French with a baguette. Our way, with homemade sourdough bread, cucumber or radish. I recommend the recipe for homemade bread with sourdough from a mold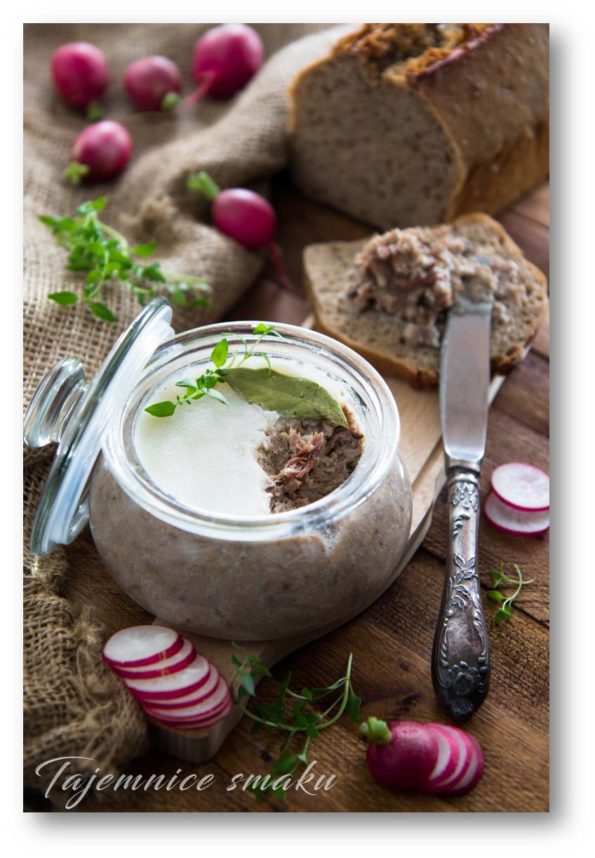 Goose rillettes are one of the tastiest meat spreads. I'll tell you a secret, I know a vegetarian who makes exceptions to her diet for this spread...
What better incentive to try this recipe?
Autumn is the best time for fresh goose. Why autumn? Because the goose breeding cycle ends in late autumn and then we can buy a fresh, young goose. An old Polish proverb says: "On Saint Martin, good goose" or "Martin's feast slaughters a lot of geese". After that, we can only use frozen goose for the dish, so while we have fresh... let's use it!
Additions in the form of herbs and spices can be modified according to the mood and personal taste preferences.
You can also prepare duck with this recipe.
INGREDIENTS
500 g of raw goose fat
1 large goose weighing about 3 - 4 kg  - I use Polish oat goose
2 bay leaves
several sprigs of fresh thyme
5 grains of allspice
5 cloves of garlic
400 ml dry white wine
salt, pepper
EXECUTION
Rinse the goose, dry it and divide it into smaller portions so that it is easy to arrange them in the pot. Put the wings on the broth or freeze.
Separate the skin and fat from the meat from the remaining portions of the goose.
We grind the raw fat, skin and all fatty bits in a meat grinder.
The ground fat is melted over low heat for about an hour.
When the fat melts, add goose pieces, bay leaves, allspice, garlic, thyme sprigs, salt, pepper.
Pour the whole thing with wine, cover with a lid and cook on very low heat for about 3 - 4 hours, stirring gently from time to time.
The cooking time may depend on the goose, sometimes it can take up to 5 hours.
When the goose meat is tender, remove it from the fire.
As it cools down, we carefully separate the bones from the meat, get rid of all the gristle, bones, spices, so that we only have meat and fat in the pot.
We shred all pieces of meat in our fingers or with a fork into fibers and reheat everything together, seasoning with salt and pepper if necessary.
The hot rillettes are poured into clean and scalded jars and sealed.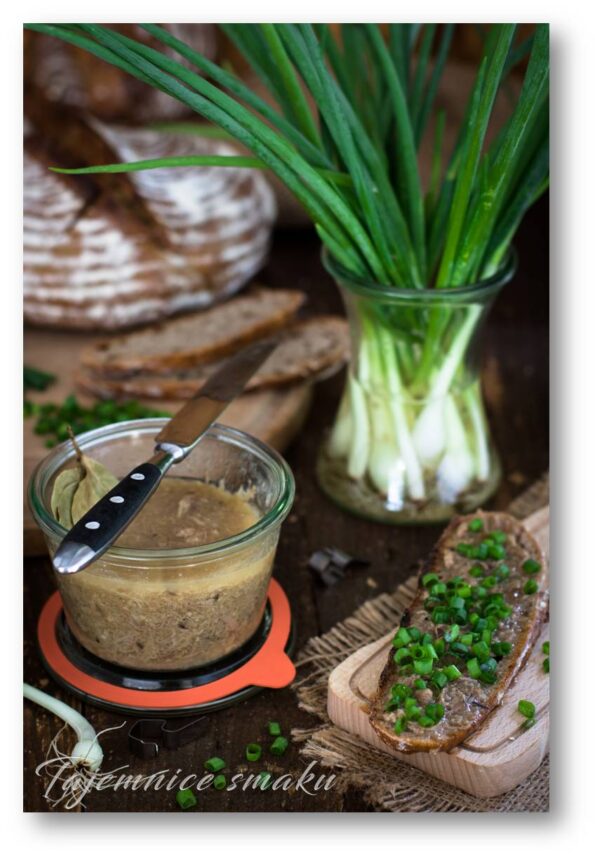 If we want to store the goose spread for longer, we have to double pasteurize the jars with meat, i.e. after the first pasteurization, wait a day and pasteurize it a second time. Such jars can be stored in the fridge or in a very cold cellar for up to 3 months.
*Basic recipe taken from Magazines Kitchen, original recipe is "Rillette de canard" duck
also check
Comments