Homemade pastries - yeast croissants with cheese, ham, bran and poppy seeds. Dry croissants for breakfast, lunch or dinner. Yeast dough without kneading
Recipe for dry yeast croissants without kneading. Easy yeast dough, without kneading, without special equipment and experience. Just combine the ingredients, leave to rise, shape the dough into the desired shape and put it in the oven.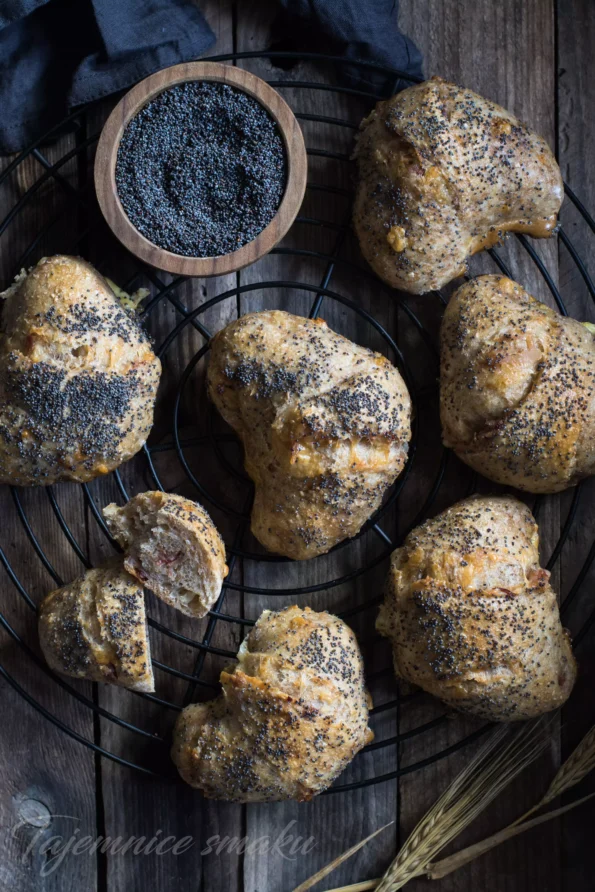 The cheese and ham sandwich is probably a classic in most households. I found a recipe and an idea how to combine these ingredients to prepare a tasty and handy snack. Croissants with cheese and ham are yeast bread, where the additives are carefully hidden in the dough.
The recipe comes from the book Bula and friends< /em> Iny-Janine Johansen. Such a savory croissant is a perfect snack for breakfast, lunch or dinner, as well as a great addition to soups and salads.
INGREDIENTSfor 12 - 15 croissants
600 g all-purpose or cake flour
50 g of wheat or oat bran
1/2 teaspoon dried yeast  or about 5 g fresh
1 teaspoon of salt
500 ml of cold water
150 g of thinly sliced ​​ham
150 g of grated cheese
1 egg to brush on
sesame or poppy seeds
EXECUTION
In a large bowl, mix the water and yeast.
Add flour, bran and salt, mix until a uniform sticky dough is formed.
Cover the bowl with the dough and leave it on the kitchen counter for about 8 - 20 hours.
Then put the cake in the fridge for a minimum of 2 hours (the cake can stay in the fridge for up to 4 days). The chilled dough is better to roll out and easier to form croissants.
Take the dough out of the fridge and place it on a floured surface.
Roll out the dough into a rectangle measuring 40 x 60 cm.
Sprinkle the top 2/3 of the dough with ham and cheese.
Fold the bottom 1/3 of the dough onto the middle 1/3.
At the end, fold again to cover the rest of the dough with stuffing, press firmly.
Cut the dough into triangles along the width.
We roll each triangle into a croissant and place it on a baking sheet lined with baking paper.
 Cover the croissants with a cloth and leave for about 1 hour, until they double in size.
Before baking, brush the croissants with a beaten egg and sprinkle with poppy seeds or sesame seeds.
Bake in an oven heated to 220°C for about 15 - 20 minutes, until golden and baked.
also check
Comments