Pan de jamón venezolano - Venezuelan bread with ham, raisins and olives
This is a traditional bread baked for Christmas in Venezuela. All Venezuelans, no matter where they are, want to eat bread and ham for Christmas. It has become so popular that you can get it in bakeries all over the world.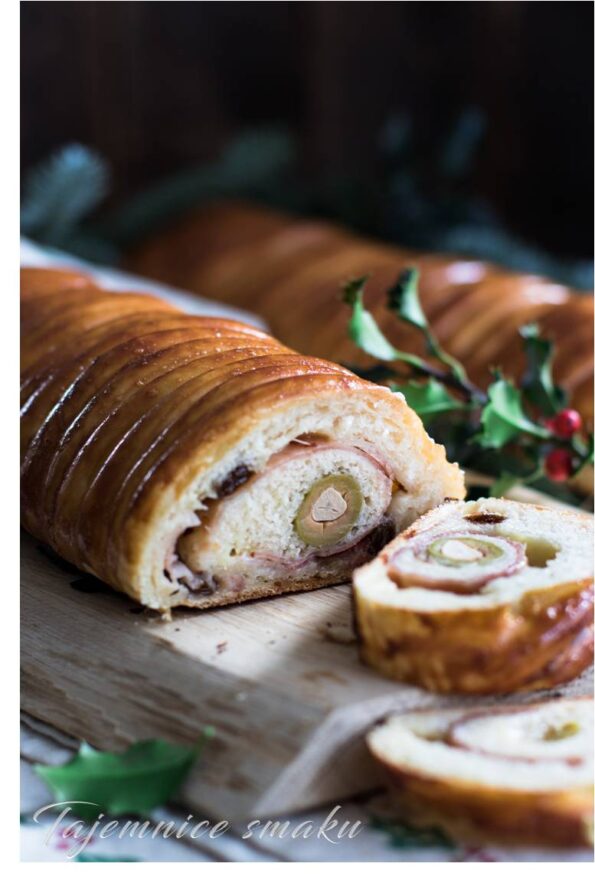 There are many recipes for this bread, each family has its own recipe. Pan de Jamón, a popular bread from Venezuela, is usually stuffed with ham and olives, but sometimes with other ingredients such as peppers, bacon, raisins, nuts. as well as nuts and capers. The proportions of additives and the way of preparing the dough may vary slightly. I added mozzarella cheese to my bread.
We bake the cake together as part of November Amber bakery
Blog description and photos: Bizcochos and Sancochos
Ingredients
CAKE
500 g of wheat flour type 500
7 g instant yeast (or 15 g fresh)
4g of salt
20g of sugar
30 g powdered milk
1 egg
230ml warm water
50 g butter at room temperature
FILLING
100 g of sliced ​​raw smoked bacon
160 g of sliced ​​cooked smoked ham
100 g olives stuffed with garlic or red pepper
30 g of raisins
150 g mozzarella torn into pieces
chili pepper flakes as desired
TILE
1 egg
0.5 tablespoons of honey
Execution
Pour 1/4 cup of warm water into a cup, add 1 teaspoon of sugar and yeast, mix and leave covered for about 5 minutes until foam is formed.
After obtaining the foam, add the yeast solution to the flour, powdered milk, the rest of the warm water and the lightly beaten egg. Mix, preferably in a mixer with a hook. As you knead, add butter in small portions. We stop kneading when the dough absorbs the butter, will be smooth and will not stick to your hands.
Leave the dough in the bowl, cover with a cloth and set aside in a warm place for about 30 to 45 minutes. In the meantime, prepare the ingredients for the filling.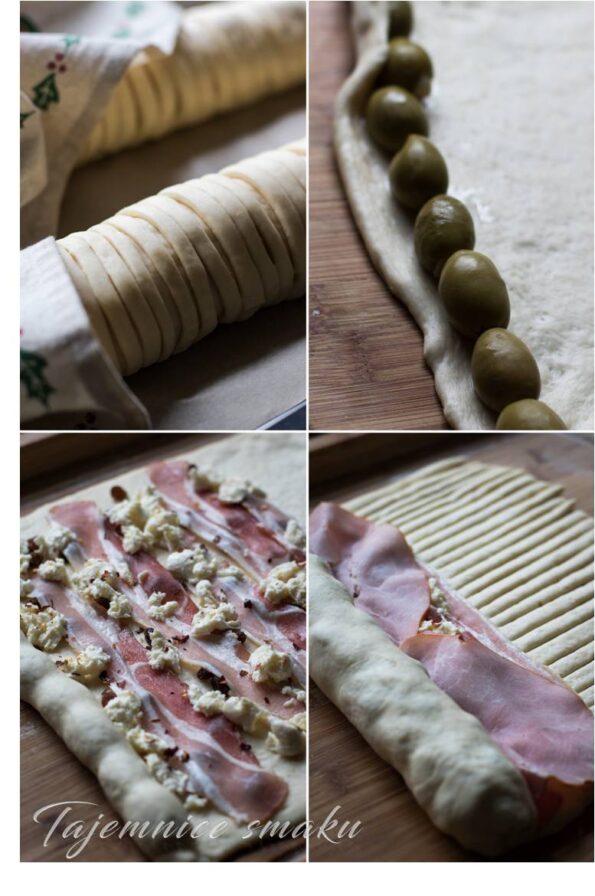 Divide the risen dough into two parts. On a floured board, roll out each portion into a rectangle (about 30 x 40 cm). Cut one side of the dough into strips (with a knife or a metal scraper). First, lay the olives along the uncut side and wrap the dough to "close" the olives. Then spread the raisins, bacon and pieces of mozzarella on the remaining surface (until the cut) of the dough. Sprinkle with chili flakes, put slices of ham and roll the dough into a roulade. Proceed in the same way with the second portion and place the breads on a baking tray lined with baking paper. Cover and leave for another 30 to 40 minutes.
Preheat the oven to 180°C.
Bake the breads for 20 minutes, then brush them with a reduced egg with honey and continue baking for another 20 minutes. Remove from the oven and cool on a wire rack. Serve cut into slices.
Notes:
The amount of ham, bacon, olives and raisins may vary depending on the flavor, if you like it a lot, add more...
If you don't have powdered milk, replace the water with regular milk. li>
Pan de Jamón on blogs:
Gucio's kitchen
Kitchen door
Taste secrets
Kitchen retreats
also check
Comments