Shrimp fried with garlic, black or brown mustard and other aromatic spices - a culinary trip to India
Short fried shrimps with garlic and black or brown mustard seeds. For this fresh chapati bread, we close our eyes and move to India.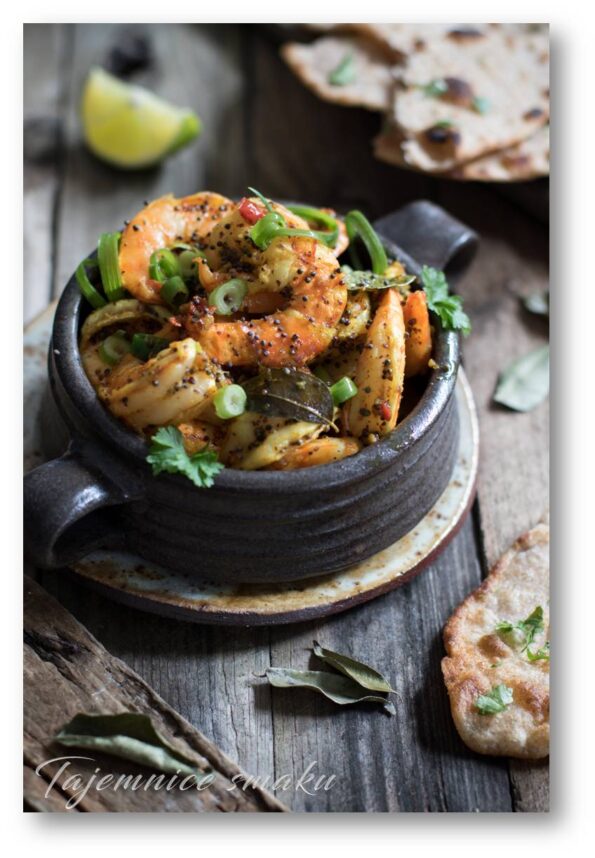 Plapping black or brown mustard seeds into the hot oil right at the beginning of frying causes them to pop slightly, like popcorn. Under the influence of heat, the grains release a nutty and mustard aroma and, together with garlic and other spices, give the shrimp a unique and unique repeatable taste.
Mustard seeds, dried curry leaves and other spices can be bought in larger stores or online, e.g. in World Kitchens
INGREDIENTS
SHRIMP
300 g of peeled shrimp
2 teaspoons black or brown mustard seeds
2 tablespoons of butter
6 pieces curry leaves
5 garlic cloves crushed
1/4 teaspoon of salt
1/2 tsp chilli powder
1/2 fresh chilli, finely chopped
1/4 teaspoon ground turmeric
1/2 lemon or lime
2 spring onions finely chopped for garnish
CHAPATI BREADS
250 g of wholegrain wheat flour - for me it is wholegrain spelled flour
180 ml of cold water
1 tablespoon oil or ghee (clarified butter)
parsley
EXECUTION
SHRIMP
We crush a teaspoon of black mustard seeds in a mortar until the black skins crack open, revealing the yellow inside.
Place the butter in a frying pan heated over medium heat.
When the butter starts to foam, add a teaspoon of whole black mustard seeds and toast for about 15 - 30 seconds.
Add the curry leaves and garlic and fry for a few minutes.
Then add crushed mustard seeds, salt, chili powder, turmeric and fresh chili, fry for a few seconds.
Add the prawns and keep stirring.
As soon as the prawns turn pink, it will take about a minute, remove the pan from the heat.
Squeeze lemon juice over the shrimp and decorate with chopped spring onion.
Shrimps served with rice or chapati bread and salad.
CHAPATI BREAD
Mix the flour and water in a bowl, then knead until you get a smooth dough.
Cover the kneaded dough or wrap it in foil and leave it in the fridge for about 30 minutes.
Take the dough out of the fridge and divide it into 4 - 6 portions.
Slightly grease the pan and heat it over medium heat.
Roll out each piece of dough into a thin cake.
Fry in portions in a hot pan until brown spots appear, then turn the bread over and fry on the other side.
Sprinkle with chopped parsley and serve with shrimps.
Inspiration - "Made in India" - Merra Sodha
also check
Comments