Blackthorn plum, also known as blackthorn or grater - tincture
Sloe for juice or tincture is best harvested after the first frost, then the fruit loses its characteristic astringency and becomes sweeter. However, it is difficult to catch the right moment. So it is worth picking ripe blackthorn from October and freezing.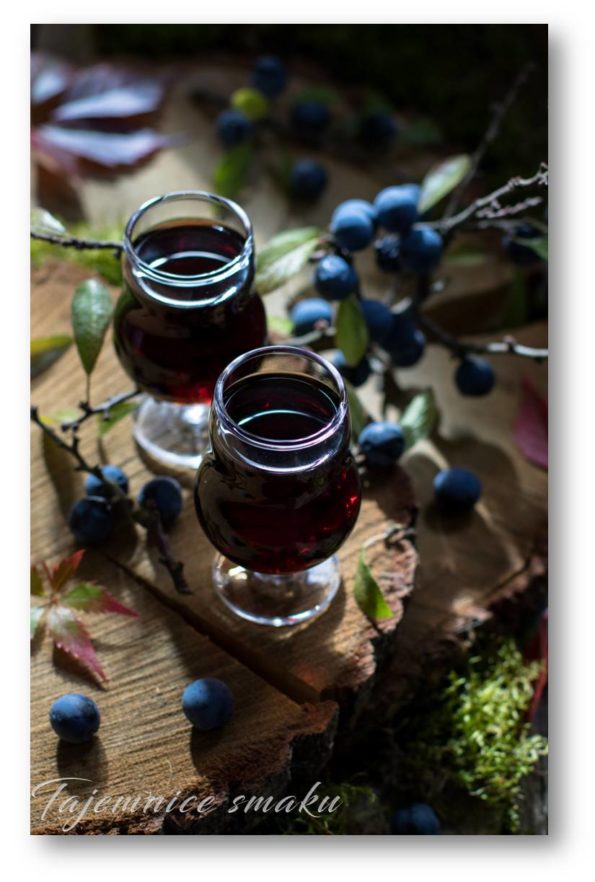 I prepare the tincture according to this recipe in the first stage without specific proportions, it is important to pour the frozen blackthorn with alcohol so that the liquid covers the fruit. After 4 months, pour off the macerated liquid, measure it and then add 100 g of sugar and 2 cloves per 1 l of the obtained liquid.
Sloe seeds contain hydrogen cyanide, so the seeds of these fruits must not be crushed.
We use blackthorn tincture as an anti-hemorrhagic and anti-diarrheal agent, it helps with stomach pains. Medicinally drink 1 tablespoon when needed*.
Ingredients
frozen sloes
liqueur alcohol - 70%
sugar - 100 g per 1 l of the tincture obtained after maceration
2 cloves per 1 l of infusion obtained after maceration
Execution
Pour the frozen sloes into a demijohn, pour alcohol so that the entire fruit is covered with liquid. Close the gander tightly, leave it in a cool and dark place for 3 - 4 months. After this time, pour the tarnion alcohol into a separate vessel, add the cloves and sugar, mix and close tightly. Leave for 2 weeks.
After two weeks, strain the tincture and pour it into bottles, leave it for a minimum of 6 months.
Tasty and healthy!
*The recipe and information on health indications comes from "Health liqueurs, krupniki, liqueurs for health", published by Lamar 2006, edited by Marek Marcinkowski
also check
Comments