Sandwich, a sandwich made of toasted bread. Baked sandwiches with cheese, avocado and spicy chorizo ​​are the perfect breakfast option.
A warm sandwich with melted cheese, avocado, spicy chorizo ​​and fresh coriander is my breakfast choice. However, it is worth experimenting with other ingredients as well. The most important is bread and cheese, the rest of the additions depends only on our preferences and imagination. The second important element is the toasting device, I have a sandwich maker Breville DuraCeramic.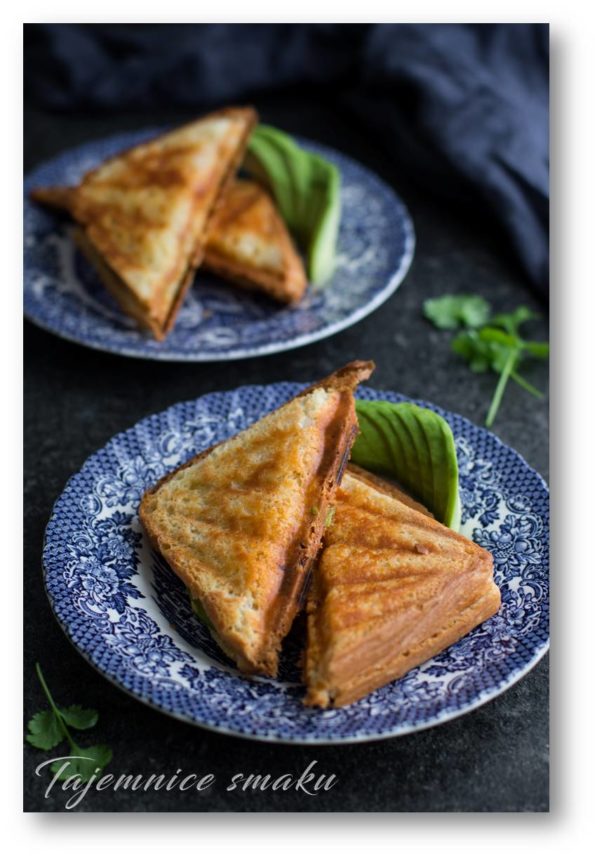 Sandwiches can be prepared from any kind of bread. However, the best for toasting sandwiches is toasted bread, which shape fits perfectly into the molds in the toaster. I recommend a recipe for one of my favorite toasted breads - homemade buttery toasted bread>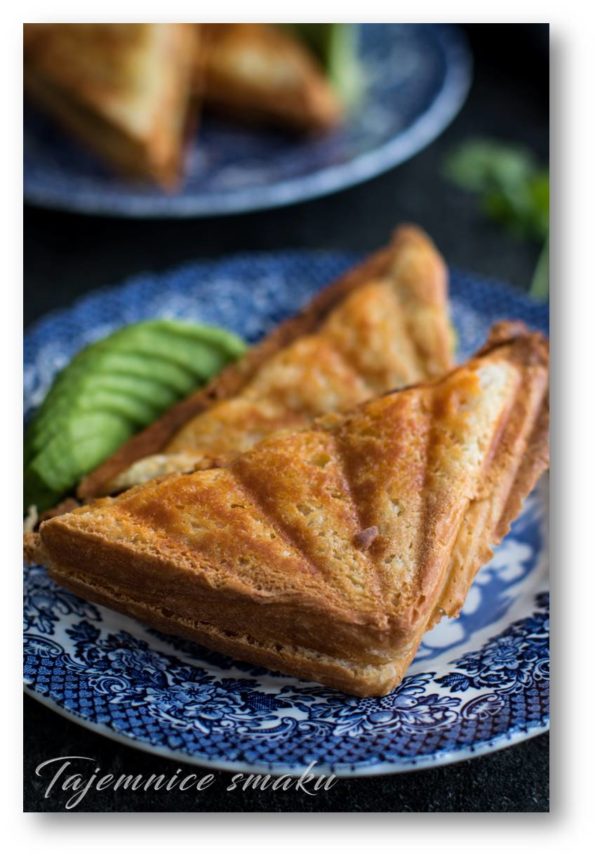 I don't give the amount of ingredients, because it's up to you how much sandwiches you want and how many toppings you want to put inside. Just don't overdo it because it will be difficult for you to close the toaster ;-)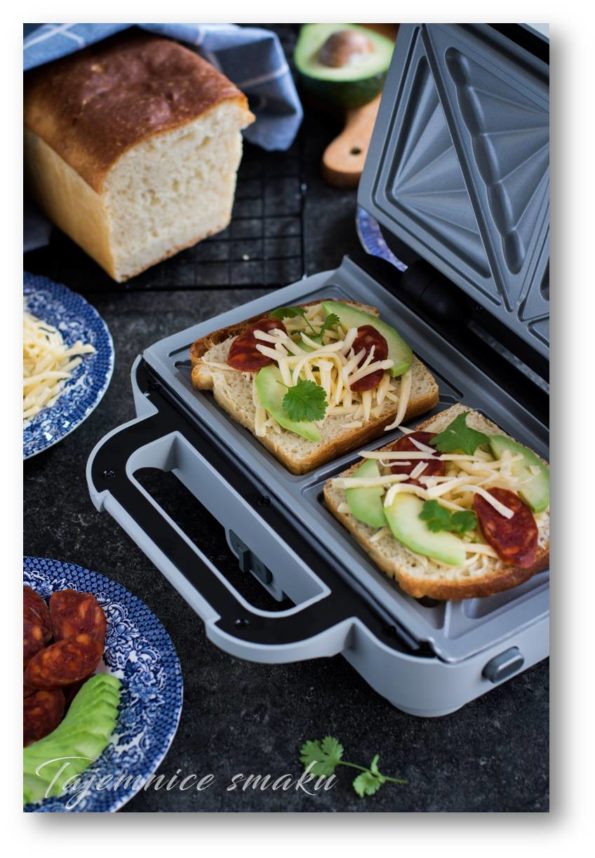 INGREDIENTS
toasted bread
avocado
gouda cheese
chorizo
fresh coriander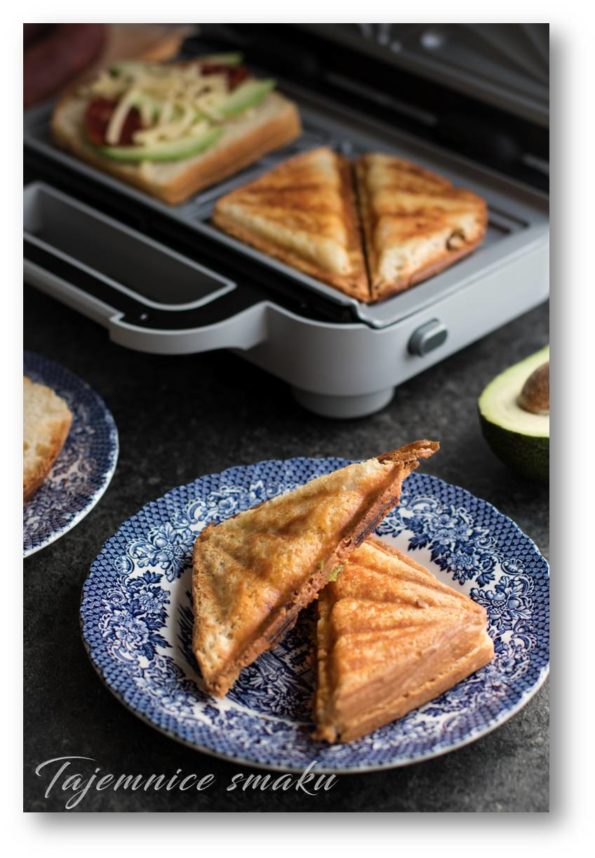 EXECUTION
We cut toasted bread into sandwiches.
Grate the cheese on a coarse grater.
Peel the avocado, remove the pit and cut into slices.
Cut the chorizo ​​into slices.
We heat up the toaster.
We put two slices of bread on the lower plate and put the toppings, some cheese, then slices of sausage and avocado, a few coriander leaves and again cheese. Remember to leave a margin of at least 1 cm around the accessories. This will allow the sandwiches to form properly and prevent the cheese from leaking out. Place another two slices of bread on top, close the lid of the toaster.
Toast the sandwiches for about 4 - 5 minutes, until browned. Remove the hot sandwiches carefully, preferably with a wooden spatula.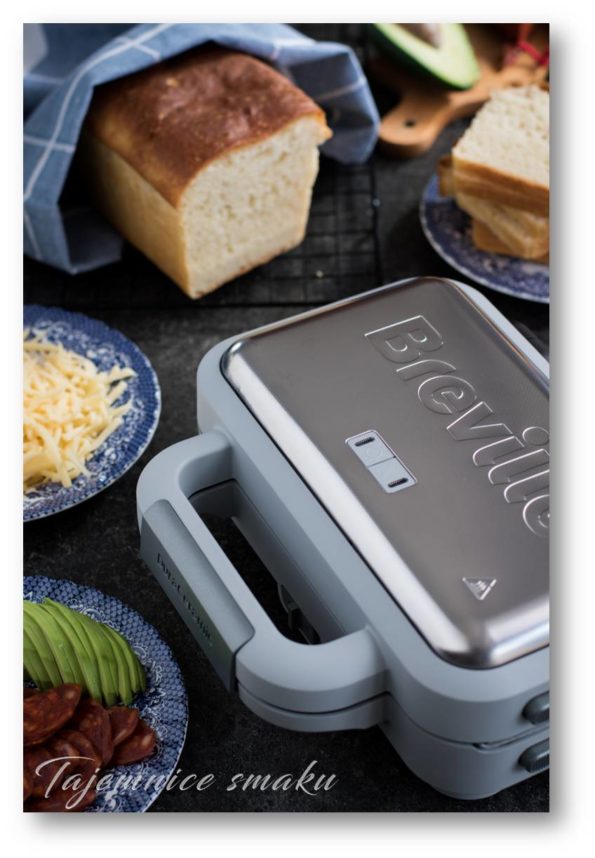 It was thanks to Breville that the world got to know the taste of crispy sandwiches, because the company was the first to market the sandwich maker. What Breville DuraCeramic?
The grill has removable heating plates, thanks to which it is easy to keep clean.
The device can be stored vertically, so it takes up little space in the kitchen cabinet.
The special DuraCeramic coating is scratch-resistant and lasts longer than traditional non-stick coatings.
The grill has two temperature settings that allow you to change the heating power. Low power is the ideal setting for cooking foods with a high sugar content (e.g. biscuits). High power is the recommended setting for toasting.
Preparing toasted sandwiches in this toaster is easy and fun. In a few moments you will prepare a delicious breakfast for the whole family.
The entry was created in cooperation with Breville Polska
also check
Comments