Almond oat crumble with apples and rhubarb. Rhubarb and apples with almond oat crumble
Fruit crumble is a very simple and tasty dessert. And how to prepare a gluten-free crumble? It's simple, the condition is to buy and use gluten-free oat flakes to prepare the crumble.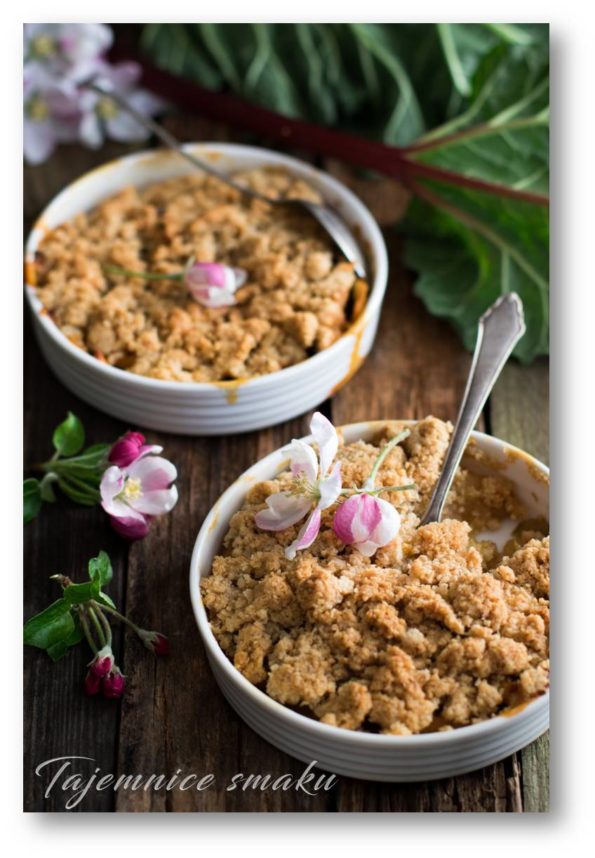 But oats don't contain gluten, so what's the deal with these gluten-free oats? I started looking for an answer. It turns out that oats very often come into contact with other cereals containing gluten during harvesting and transport, and thus can be "contaminated". For people who suffer from celiac disease or gluten intolerance, the choice of flakes is very important. If you are not allergic to gluten, you can use any oat flakes.
INGREDIENTS
FRUIT
700 g of apples
300 g rhubarb
50 g of sugar
juice of 1/2 lemon
100 ml of orange juice
Crumble
100 g oat flakes
50 g of almond flour
30 g of sugar
50 g of butter
EXECUTION
Mix the oatmeal, but not too long, so as not to obtain the consistency of flour.
Pour the mixed oatmeal, almond flour, butter in pieces and 30 g of sugar into a bowl.
Knead the whole thing with your hands until crumble is obtained.
Cover the bowl with the crumble and put it in the fridge.
We wash the apples, peel (or not), remove the cores, cut into pieces and sprinkle with lemon juice.
Peel the rhubarb and cut it into pieces.
Sprinkle the sugar into a dry frying pan and caramelize until golden.
Then, very gently and carefully, being careful not to burn yourself (it may splash), pour the orange juice.
Stir all the time until the sauce is formed, to which we add apples and rhubarb.
Caramelize the fruit for about 5 minutes, stirring gently all the time.
Put the fruit together with the resulting sauce into several heat-resistant baking molds or into one large one.
Preheat the oven to 180°C.
Sprinkle the crumble evenly over the fruit, put it in the preheated oven for about 30 - 40 minutes.
Fruit crumble tastes great served warm with vanilla ice cream.
We can also serve the dessert cold.
Other rhubarb recipes:
also check
Comments